Playing For Time is the first mission in Act 2 of Cyberpunk 2077.
Your objective is to somehow survive the ordeal with Takemura.
Here's a walkthrough of Playing For Time in Cyberpunk 2077.
Approach the stranger
After the previous mission, you'll appear in some strange area. It might be V's brain.
You will see a guy in red. Just keep following him as he appears and disappears.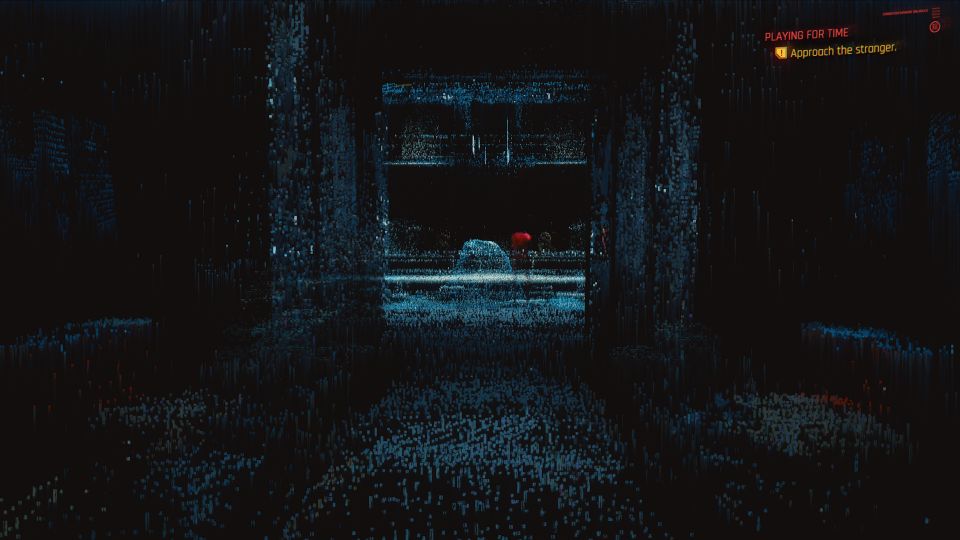 Eventually, he'll stop. Tap him.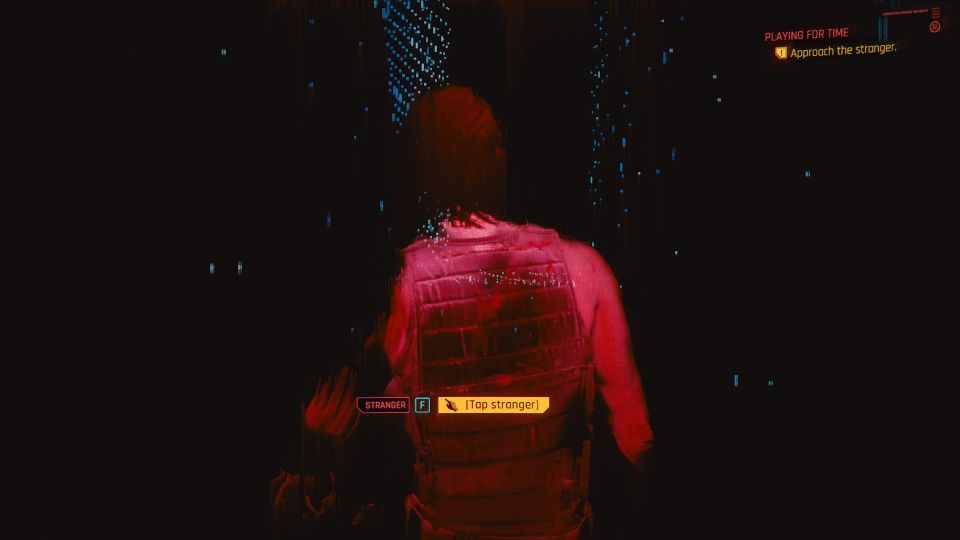 Dig yourself out
You'll then be back to reality. Move the junk away.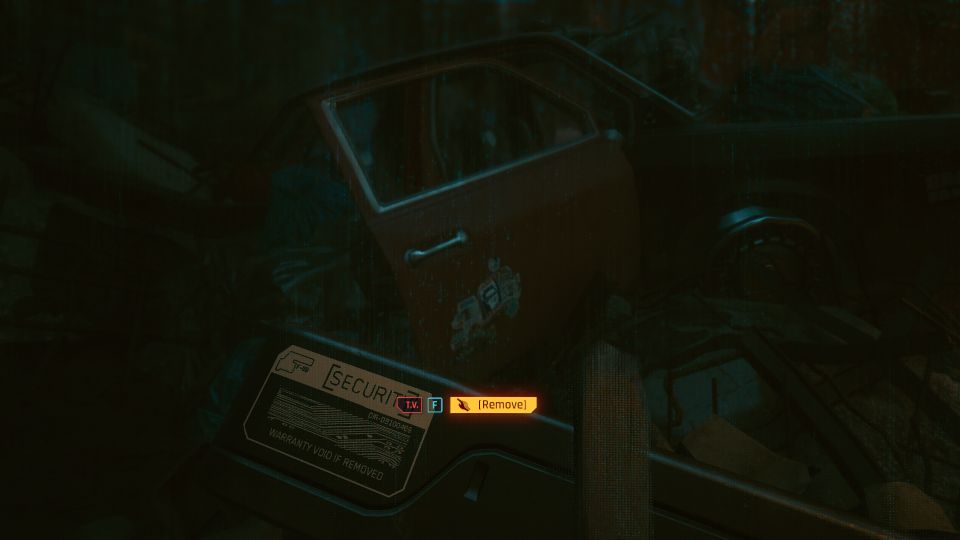 Crawl all the way out of the hole.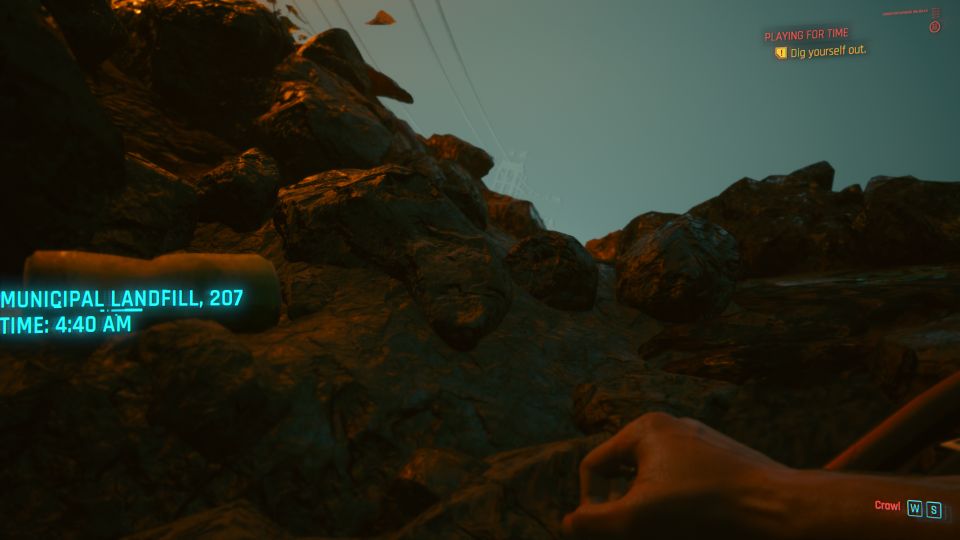 You will then see both Takemura and Dexter. The former puts a bullet in Dexter's head.
During this time, Takemura still thinks V is the culprit behind Saburo's murder.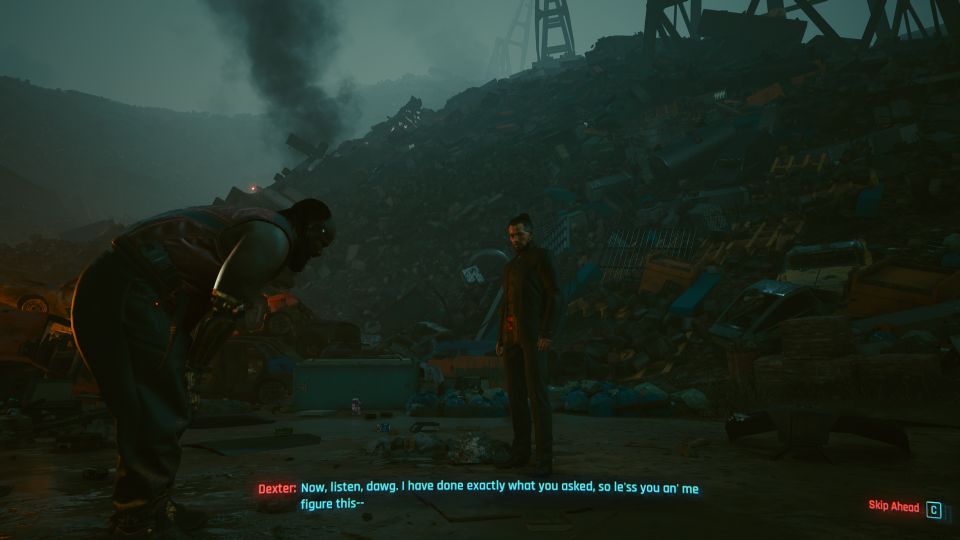 He'll then knock V out.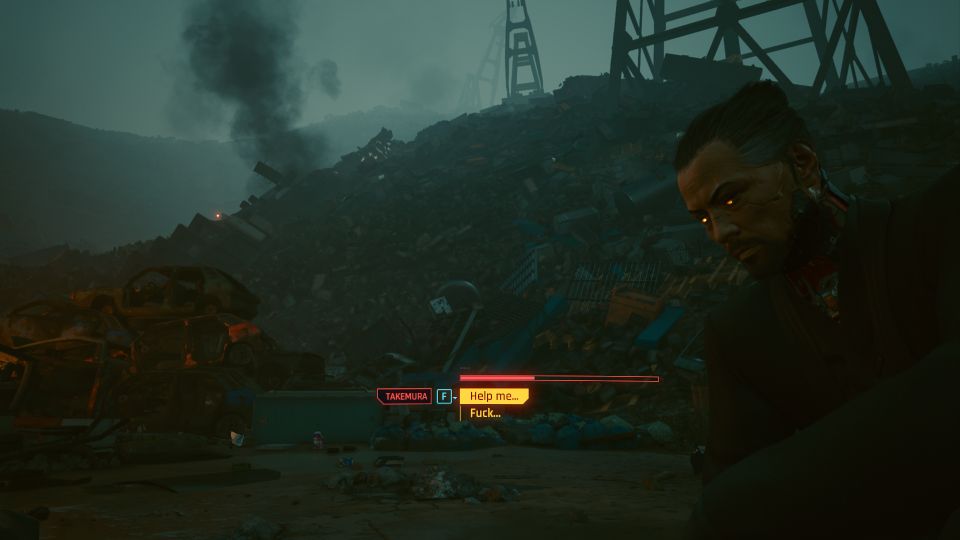 Use airhypo
V will wake up again to Takemura's plead for help.
Use the airhypo to gain consciousness.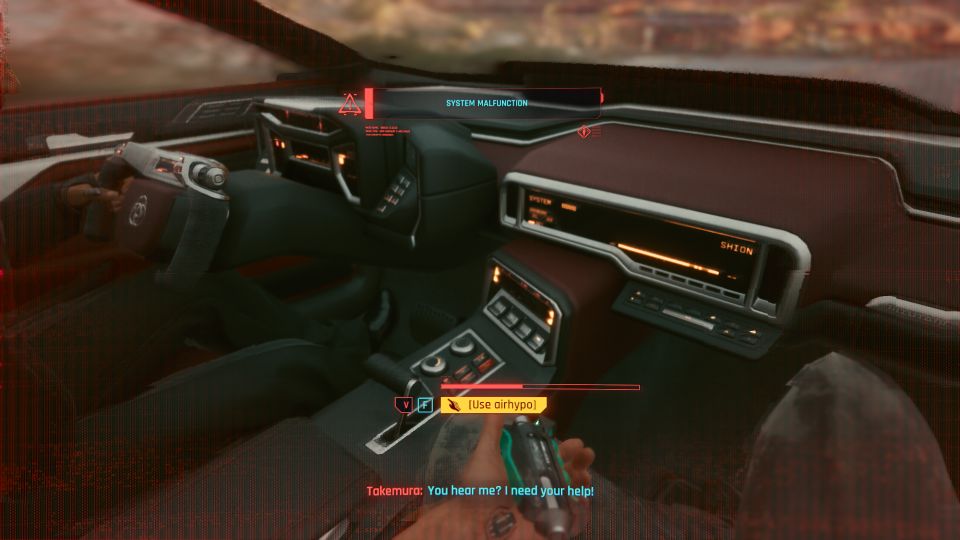 Neutralize the motorcyclists
Some enemies in bikes will appear. Shoot them down as soon as possible.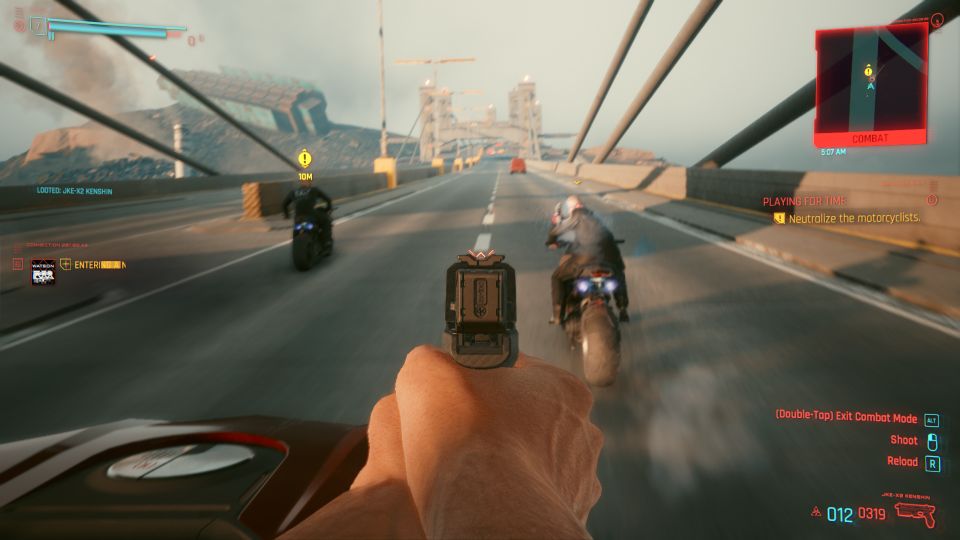 Survive the attack
During the part when Takemura is reversing all the way and a bike is chasing after you from the front, you have to get rid of the guy as soon as possible.
Otherwise, you'll fail the mission.
The assassin will then climb and cling onto the car. Just shoot at him.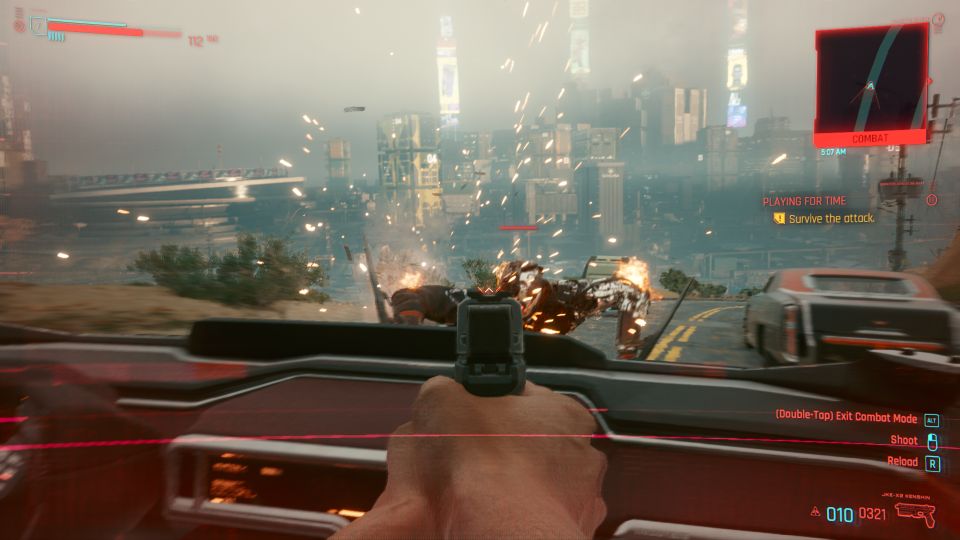 After some time, Takemura will knock into a pole, and the assassin will be stuck anyway.
You can finish him off.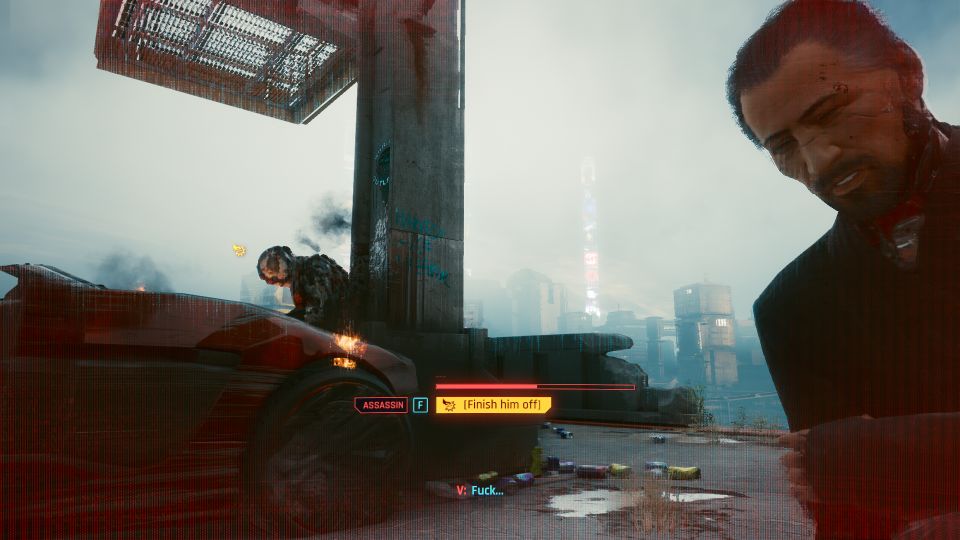 Takemura will then ask you to introduce a ripper. You can tell him about Viktor.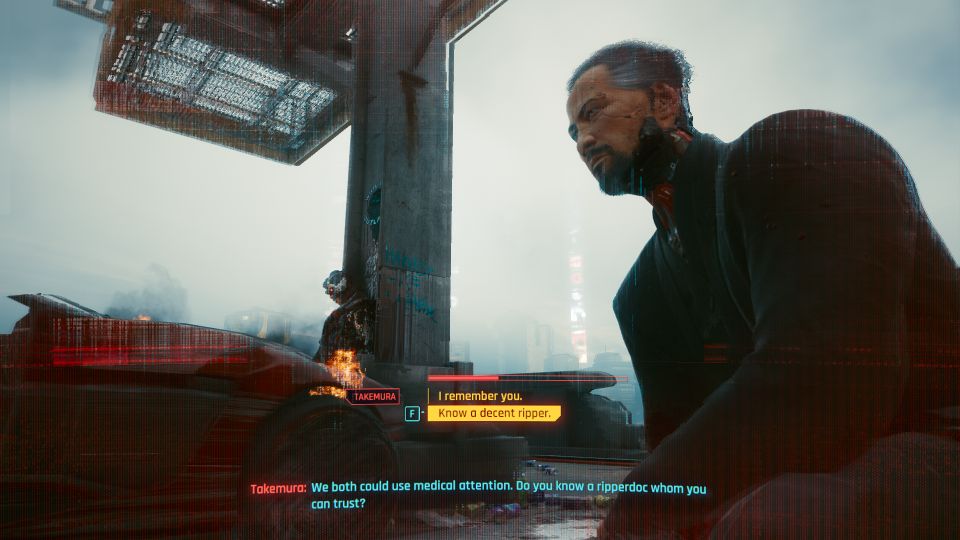 Call Delamain to pick you up.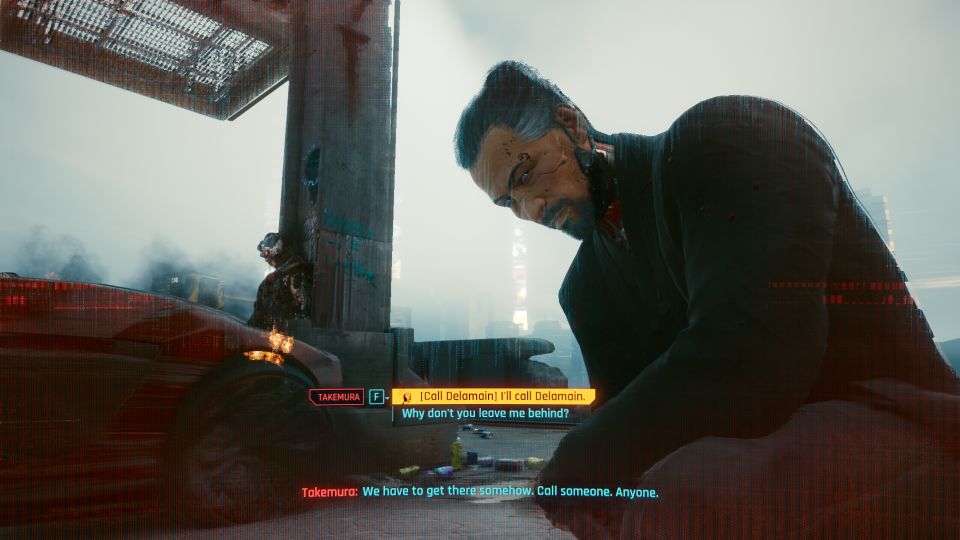 Talk to Viktor
After waking up again, you will find yourself in Viktor's ripperdoc clinic.
Apparently V lost most of his brain when Dexter shot him. At the same time, the chip containing Johnny Silverhand's memory / consciousness infiltrated the brain.
This means Johnny will take over V's body sooner or later.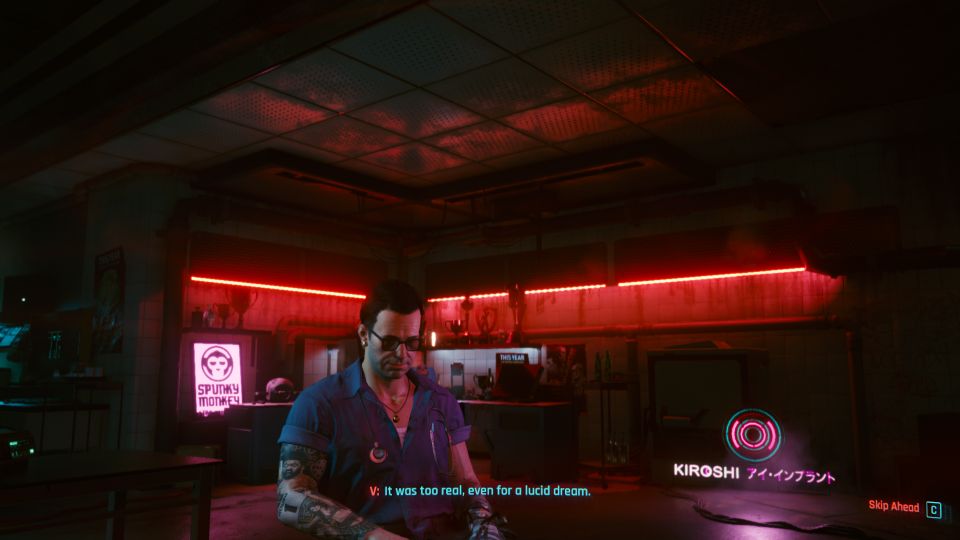 After the clinic, V will return to the house with Misty.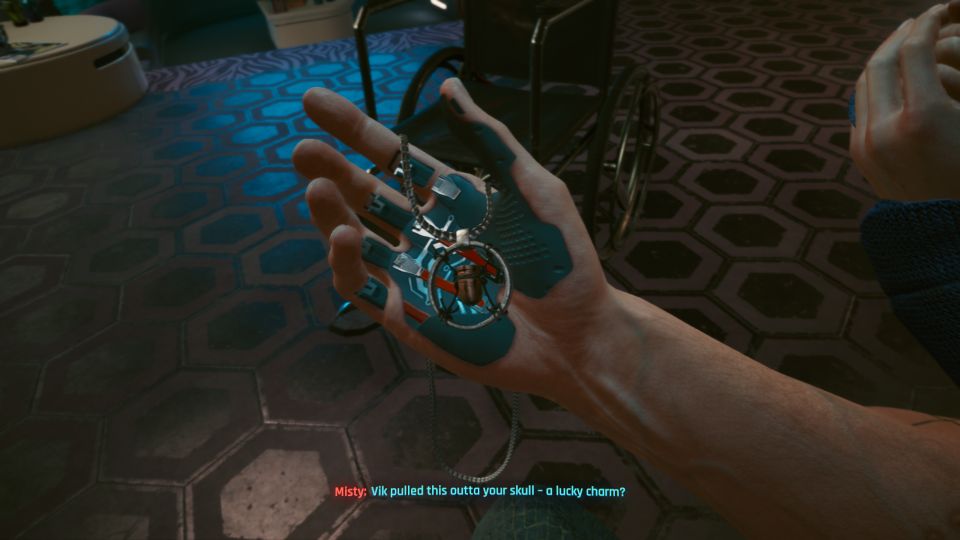 Meeting Johnny
V will then see Johnny's hallucination for the first time.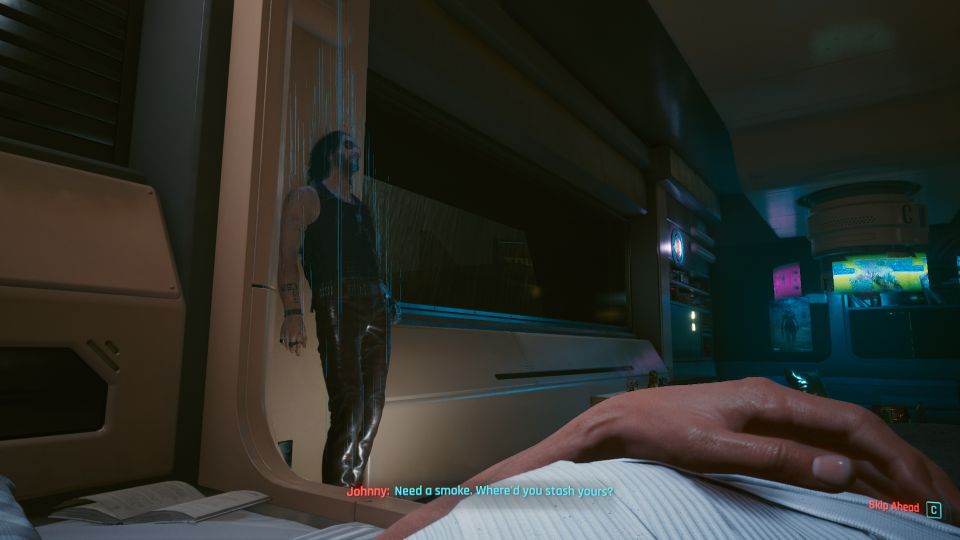 You can try to take the meds to block Johnny out but the latter will kick the pills away.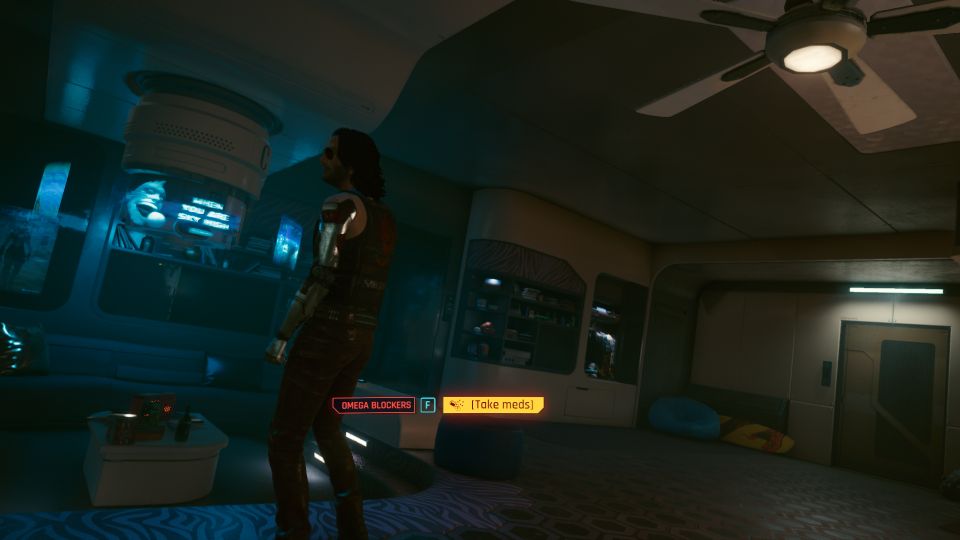 Leave the apartment
After some time, V will wake up again feeling better. Here, there are optional objectives such as stocking up on ammo and changing clothes.
Leave the apartment when you're ready.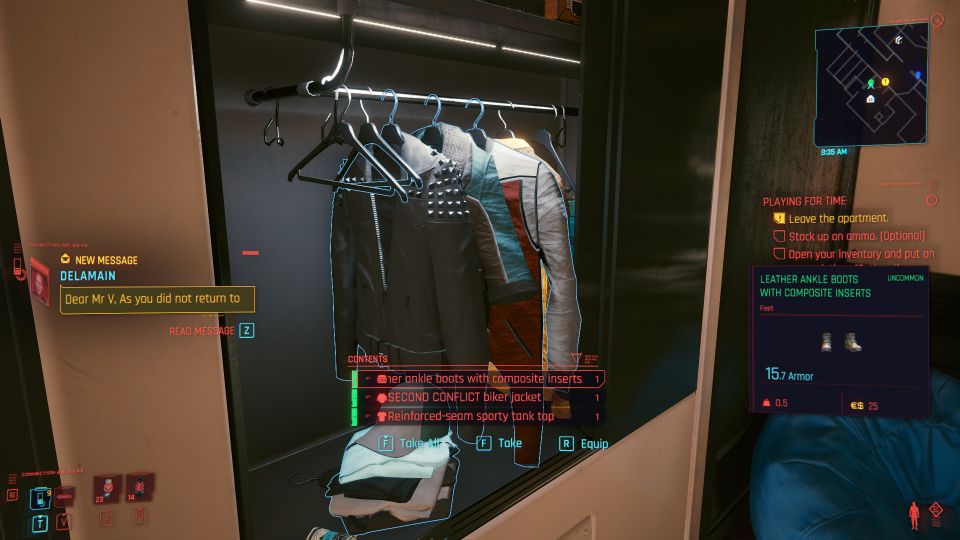 Meet with Takemura
You'll have to meet with Takemura at a diner. The location is on the map.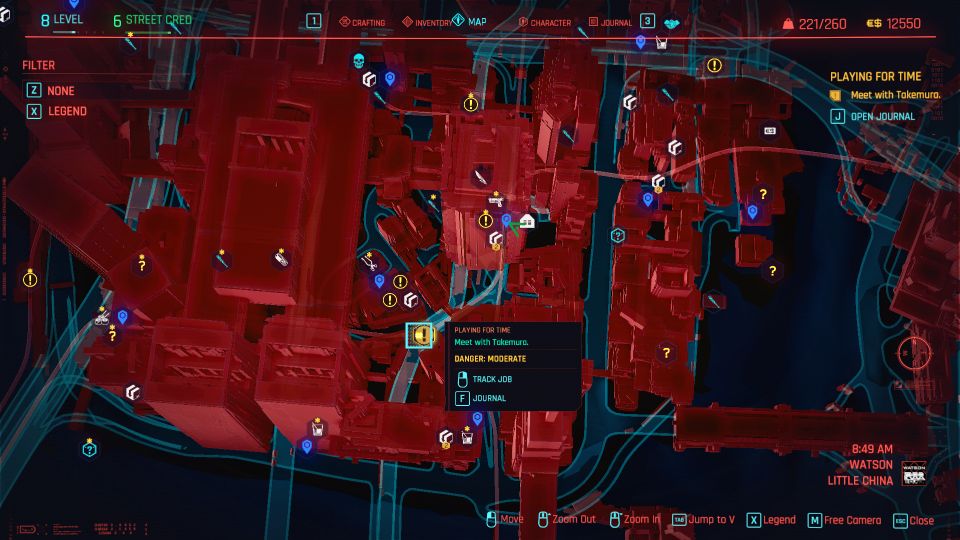 There's also an optional objective for you to check your message from Megabuilding H10 Administrator.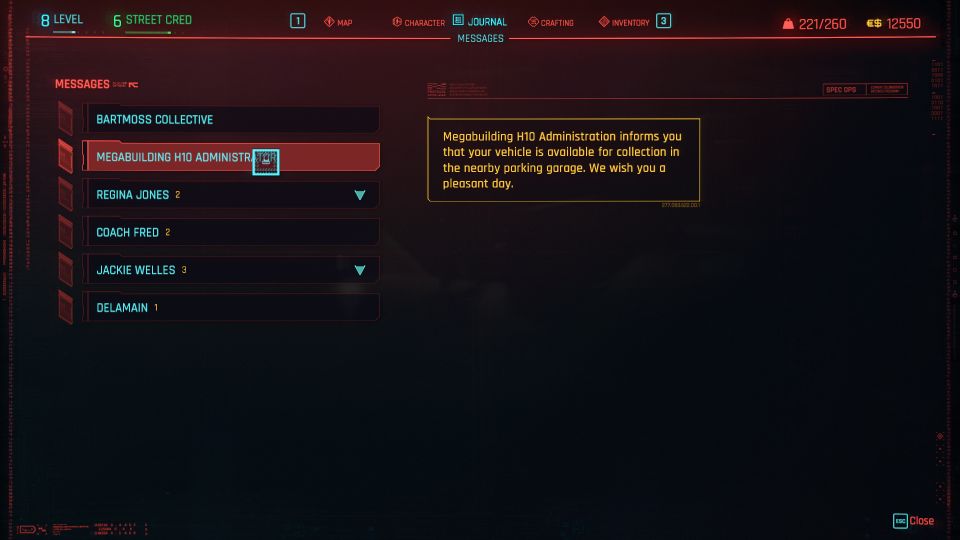 Head out of the apartment and meet Takemura at Tom's Diner.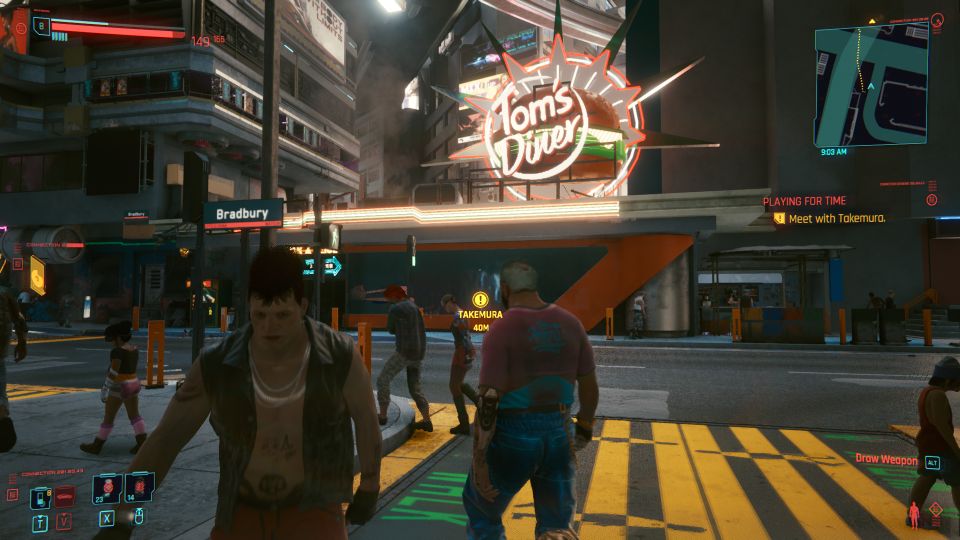 Sit down and you'll learn more on what Takemura wants with V.
During the conversation, Takemura then starts to pick a fight with someone else but you can calm him down.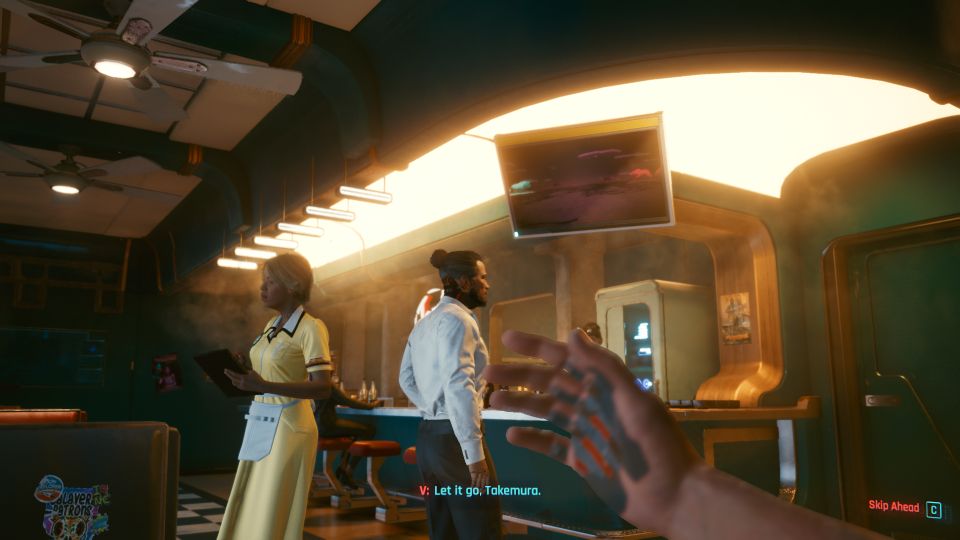 After Takemura leaves, Johnny appears again saying he wishes to work together with V. The mission ends here.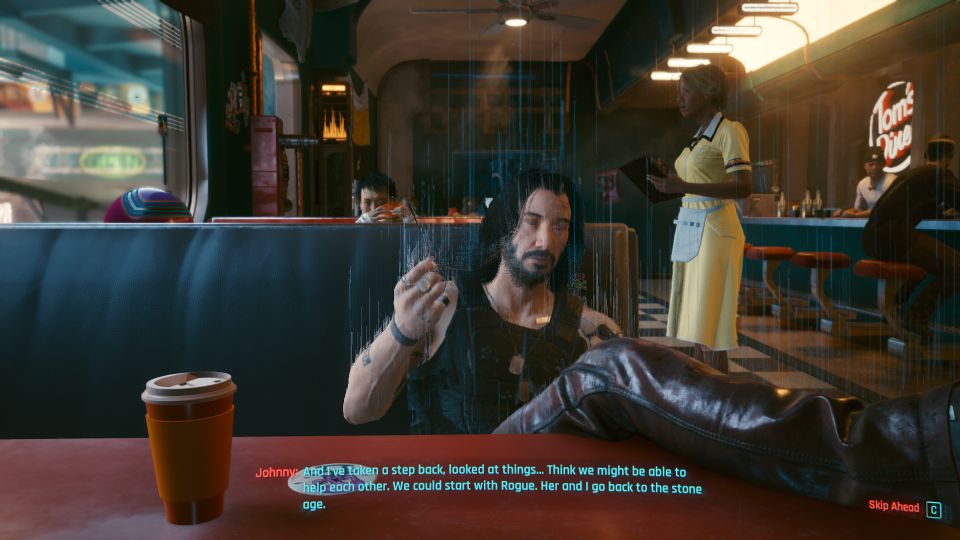 ---
Related posts:
Cyberpunk 2077: Love Like Fire Mission Walkthrough
Cyberpunk 2077: The Heist Mission Walkthrough