Plucking the Quill is a quest in Wincestre in Assassin's Creed Valhalla.
Your task is to kill one of the Order members named The Quill.
Here's a walkthrough of Plucking the Quill in AC Valhalla.
Suggested power: 250
Note: I accidentally deleted most of the screenshots so it's a bare article.
Talk to Goodwin
To begin the quest, speak to Goodwin. His exact location is shown in the map below, marked by the arrow.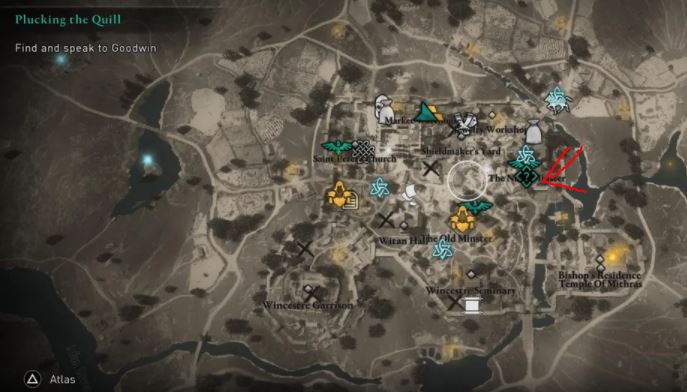 Once you enter the building, you'll also see King Aelfred inside.
Give the 115 silver or not
During the conversation, you can choose to give the 115 silver to the girl but you can also choose not to. It shouldn't affect the outcome.
The young girl will lead you to the area where the children are.
Talk to the children
You need to look for the two young kids standing beside the haystack.
As you get close to them, a cutscene loads showing them burning the haystack. They will then run away when chased by guards.
Find the child
The child ran off to the docks. Talk to the young girl and some adults will later approach the girl asking for something they stole.
You can choose to persuade the adults with level 4 flyting, pay them 230 silver or fight them. I chose to persuade them and it prevented a fight.
Find and kill The Quill
The Quill is hiding in the sewers. Head to the sewer entrance as shown by the map's quest symbol.
As you enter, move the shelf away and slide through the gap. You will then see a few children inside. Look for a small gap on the bottom left of a wall that you can use to slide through.
You will then see some guards. Assassinate them quietly and follow the route until you reach some sort of a hall.
As you approach the hall, a cutscene loads showing Hilda and the young girl from earlier. Hilda is The Quill.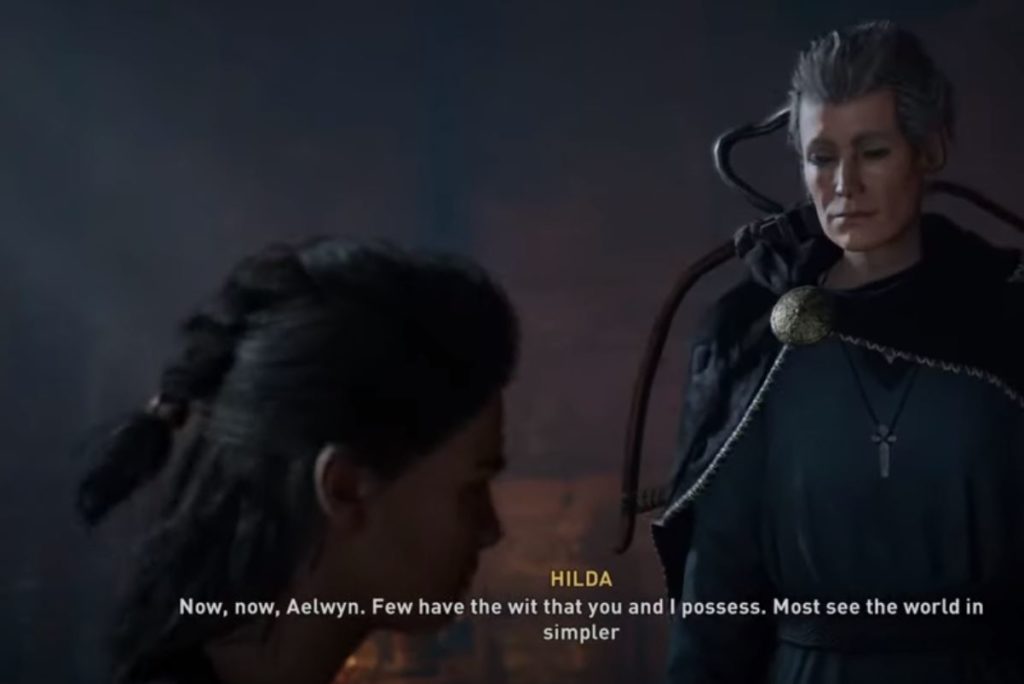 When the fight begins, her guards will attack you. To kill The Quill, you should head to the stairs to go up and just ignore the guards. Chase after her and kill her quickly before she hides. She barely has any armor or HP.
After killing her, confirm kill and the quest ends.
---
Related posts:
Assassin's Creed Valhalla: Choking The Gallows Walkthrough
AC Valhalla: The Reeve Of Wincestre Walkthrough
Assassin's Creed Valhalla: Maen Ceti Cairn Guide