The Curse of Uchitsune is a Mythic Tale in Ghost of Tsushima relating to a bow.
Your task is to find out more about Uchitsune and where the long bow is located.
Here's a walkthrough of The Curse of Uchitsune in Ghost of Tsushima.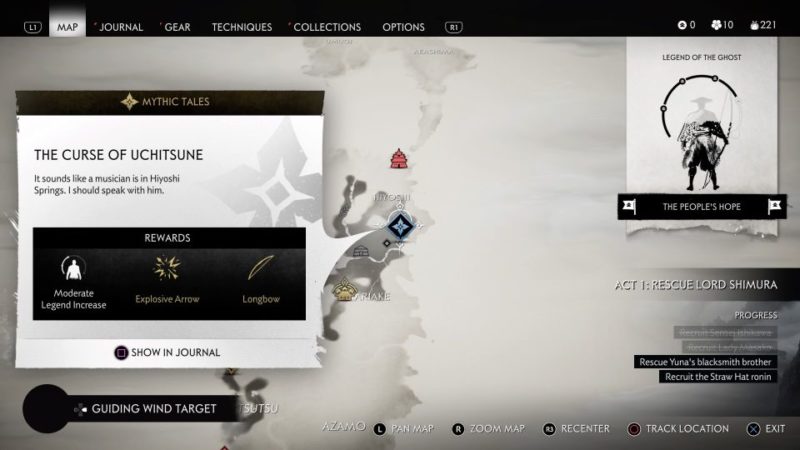 Find the musician
Look for the musician who is at Hiyoshi Springs.
Sit down to listen to begin the tale.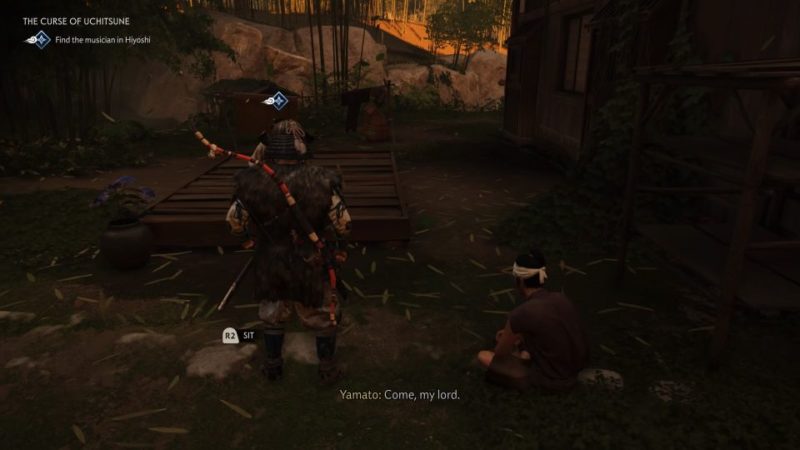 Search for blue flowers
Next, search for the blue flowers nearby. The map should give a search area.
Once you find the blue flowers, keep following the trail of flowers.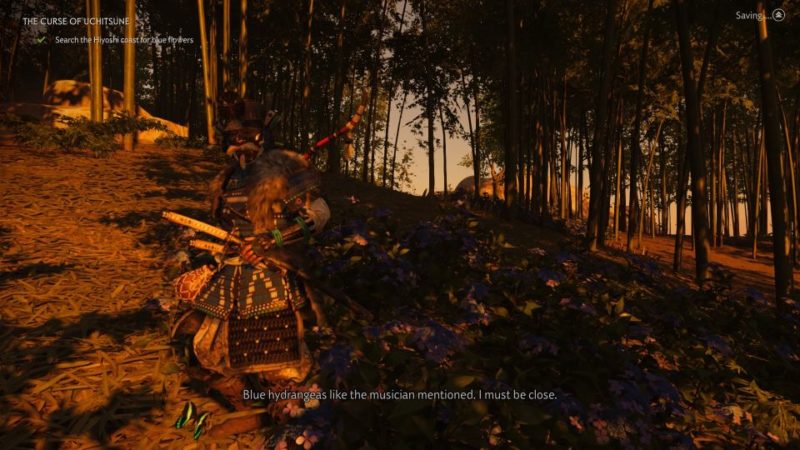 It will eventually lead you to a tomb.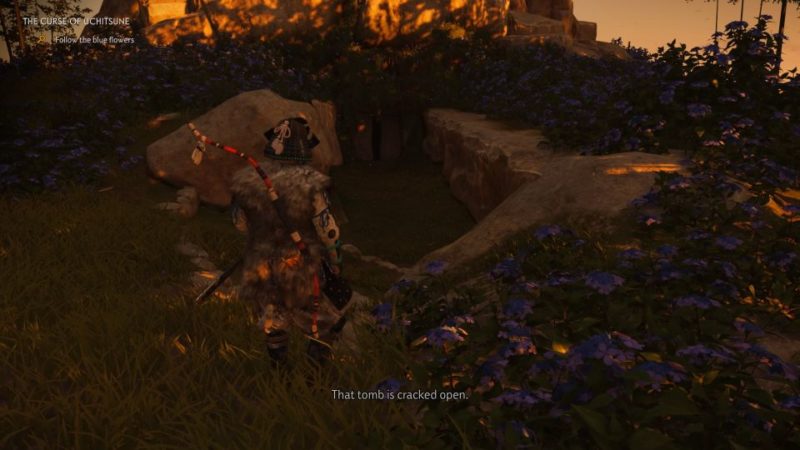 Investigate the tomb
Enter the tomb and investigate the area. Look for the painting.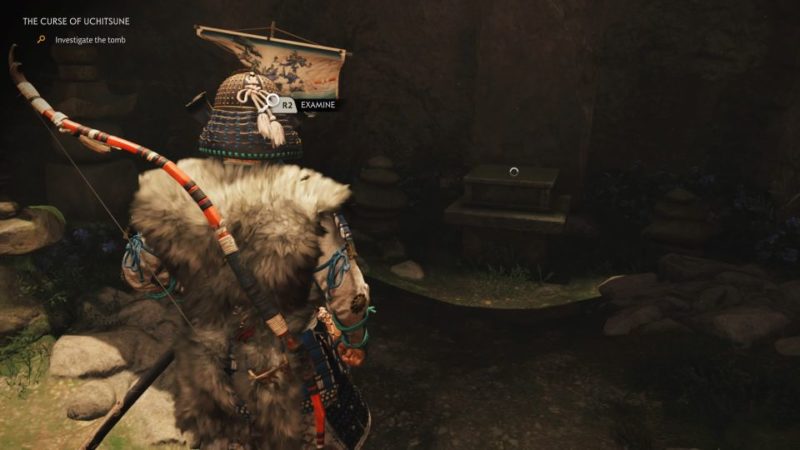 Search for the island
You'll get a painting of an island which is based off an actual location.
Head to the part marked on the map.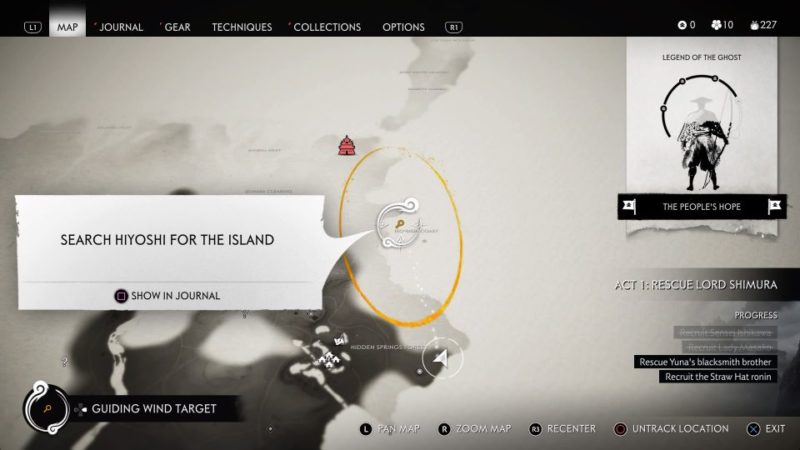 Once you get there, you should see lots of blue flowers.
Again, follow the trail of flowers.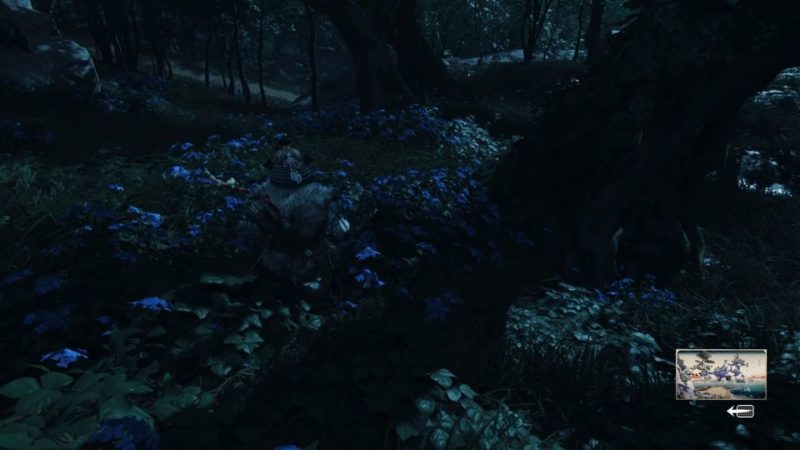 Keep going until you can see the island with blue flowers from the coast.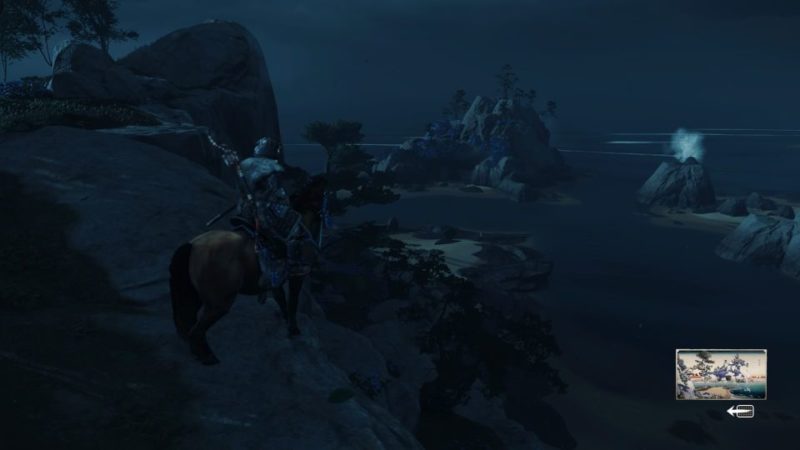 Find a ledge to climb down and swim towards the island.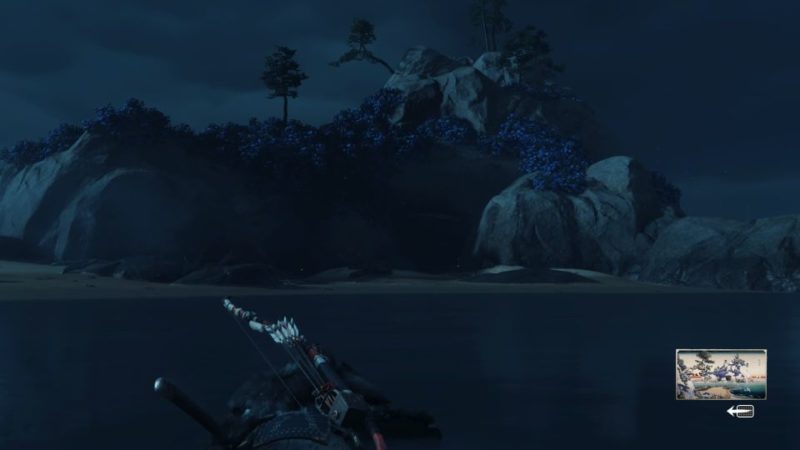 Investigate the painting
On the island, there's a small cave that you can enter. There's another painting for you to examine.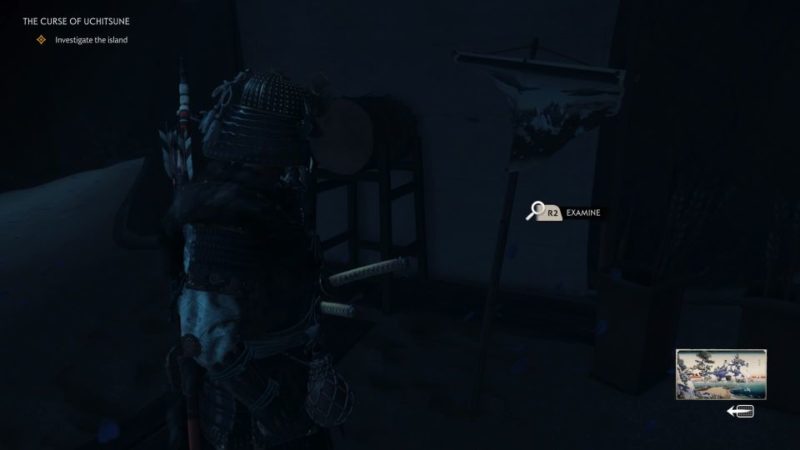 Once you get out of the cave, the same Tengu-masked person will give you a warning.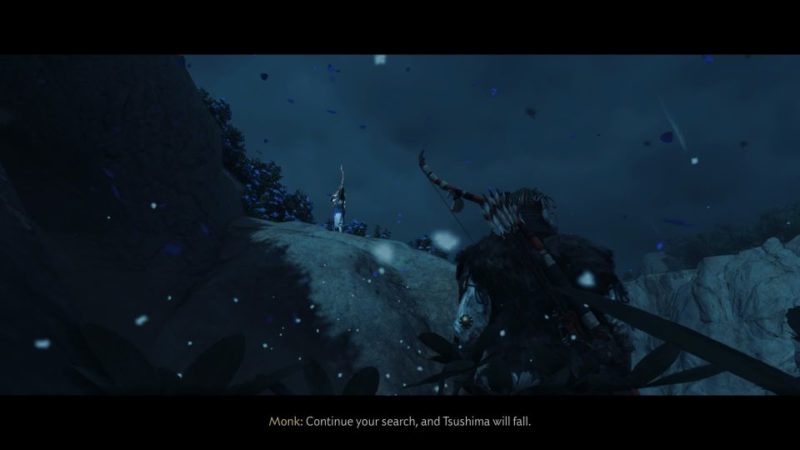 Find the mountain
Your next destination is the mountain and you'll have a painting to guide you.
Just head towards the marked area on the map. The exact location of the mountain is shown in the map below, marked by the player location.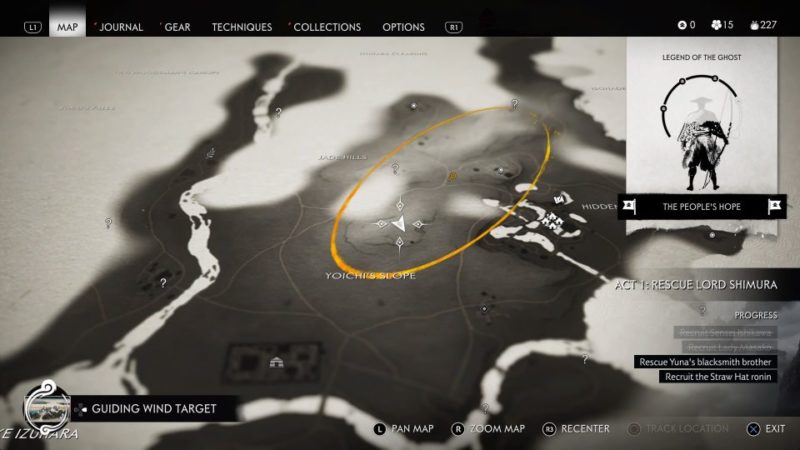 Alternatively, you can just follow the trail of blue flowers to the mountain. You may also see the mountain from far and it's much clearer during the day.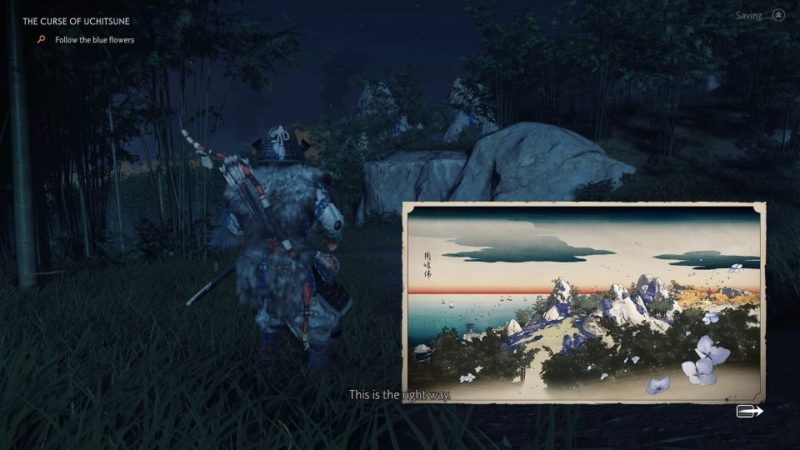 Head towards the part of the mountain with the blue flowers.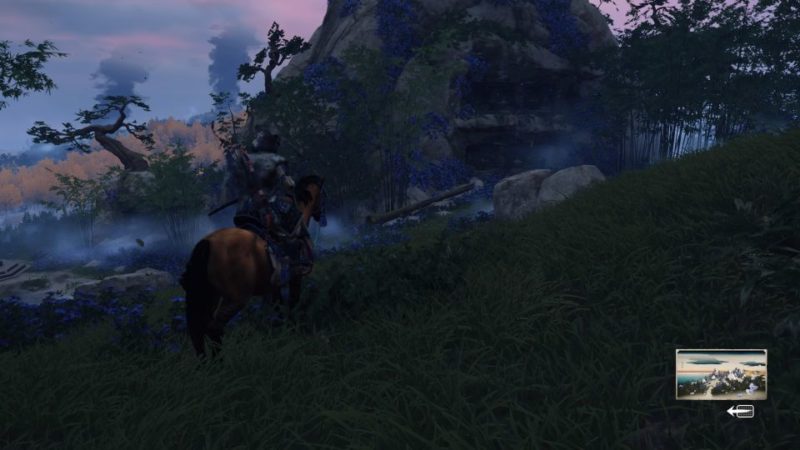 Look for the longbow
At the area, you should see a big bell or something that looks like a bell.
Head towards it and pick up the longbow.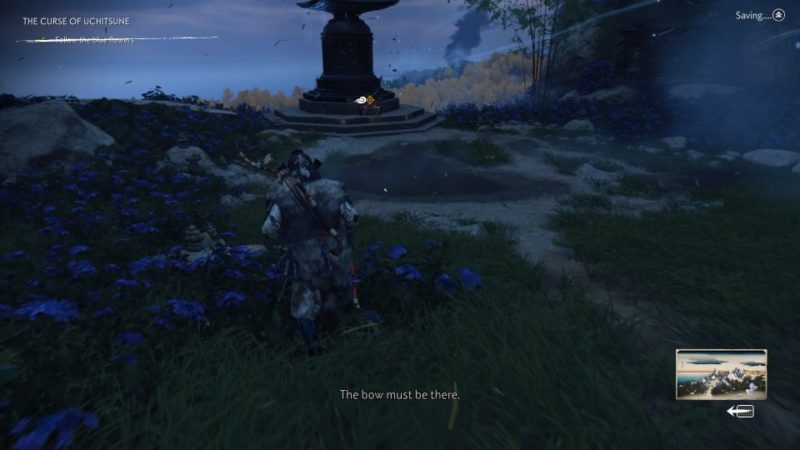 Defeat Tengu Demon
You'll then be transported to a different realm and have to defeat the Tengu Demon in order to get the bow.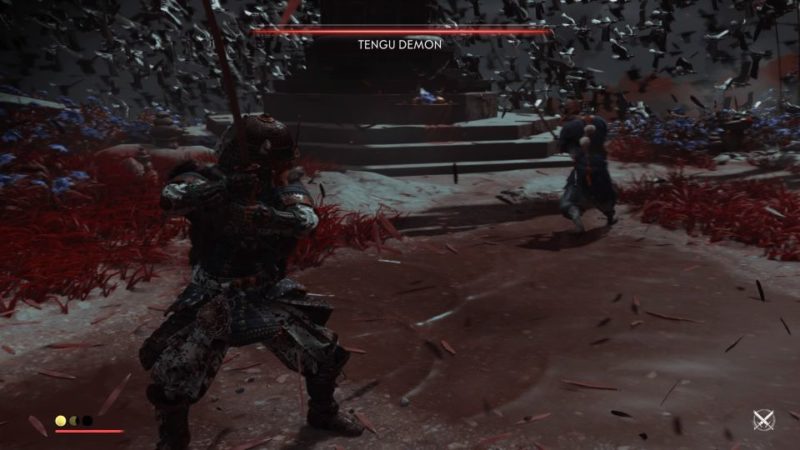 After the fight, you'll unlock the longbow which gives higher damage and zoom.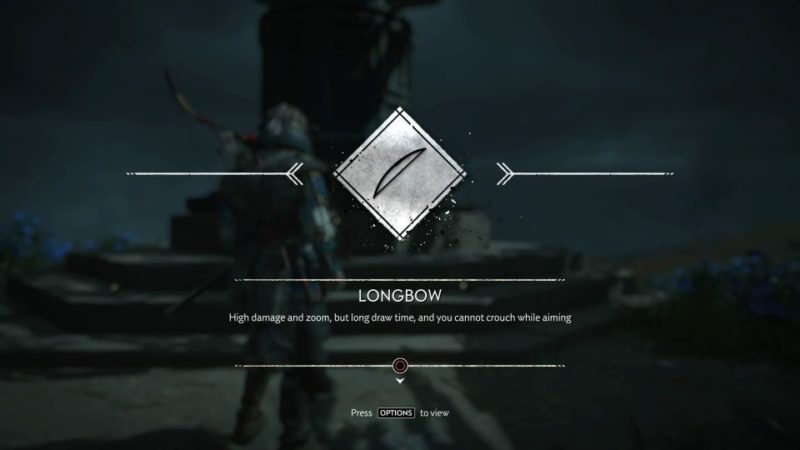 ---
Related articles:
The Unbreakable Gosaku – Ghost Of Tsushima Walkthrough
The Heavenly Strike Mythic Tale – Ghost Of Tsushima Walkthrough