The Damned is a main mission in Dogtown of Cyberpunk 2077.
Your objective is to look for a sleeper agent Alex and later find a netrunner Slider.
Here's a walkthrough and guide of The Damned in Cyberpunk 2077.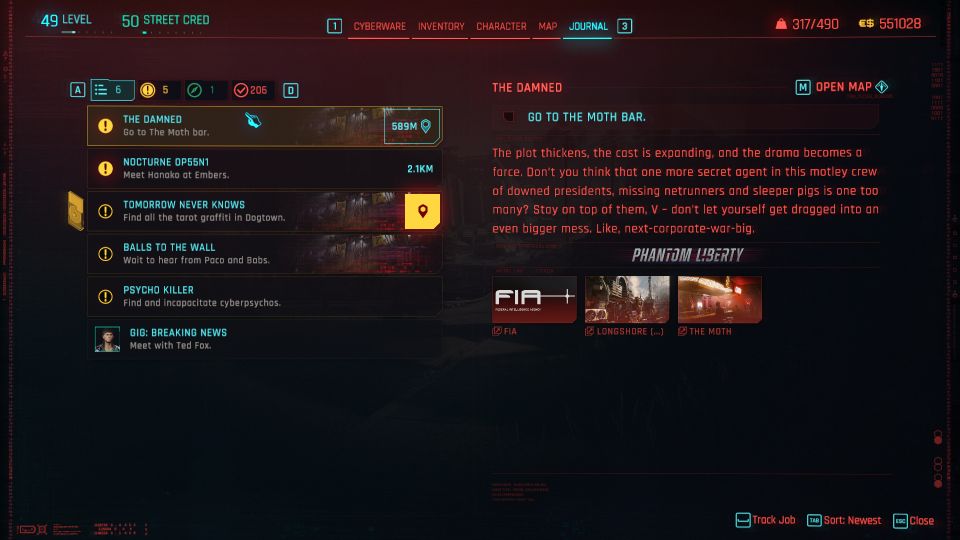 Go to the Moth bar
First of all, head to the Moth bar. The location is shown in the map below.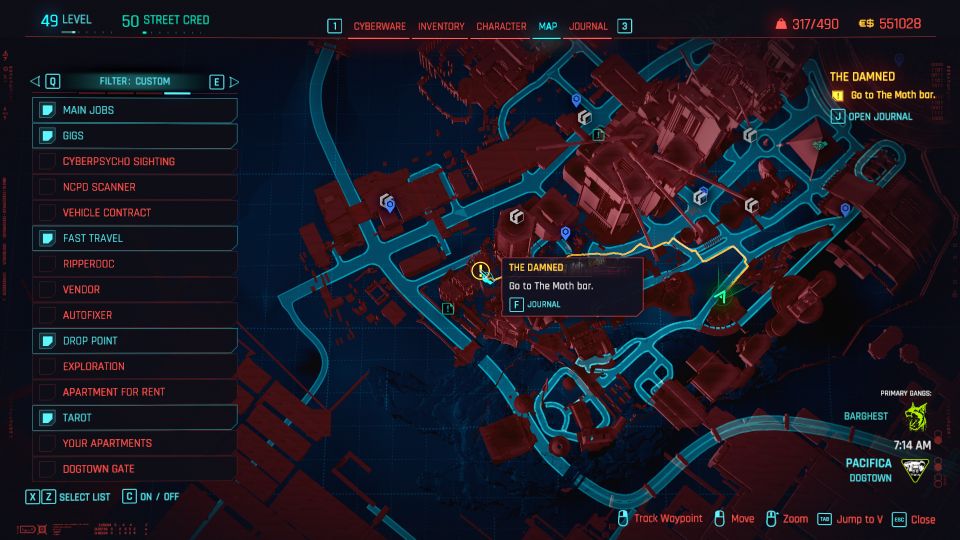 You'll reach an area with shops. There are merchants that sell permanent stat upgrades if you're interested.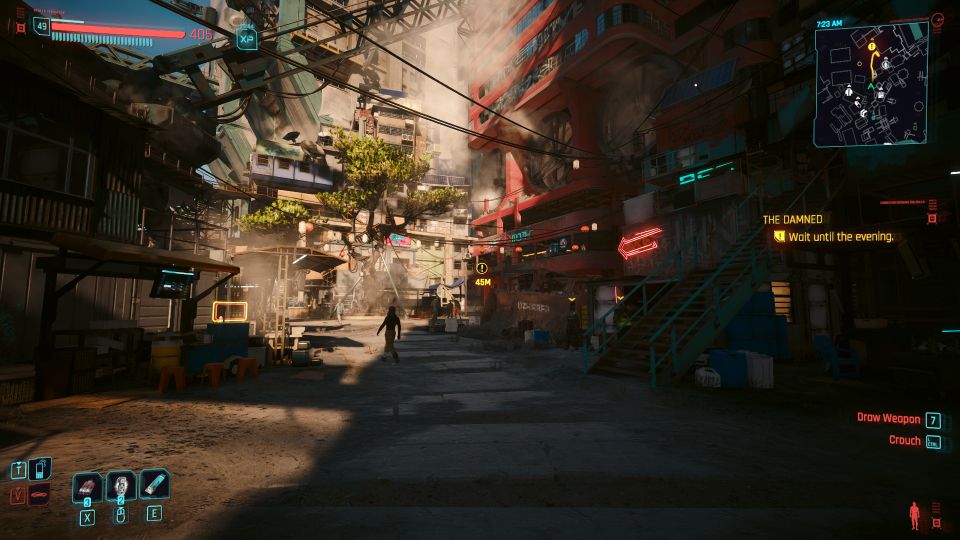 Wait until the evening
Go to the bar and wait until the evening.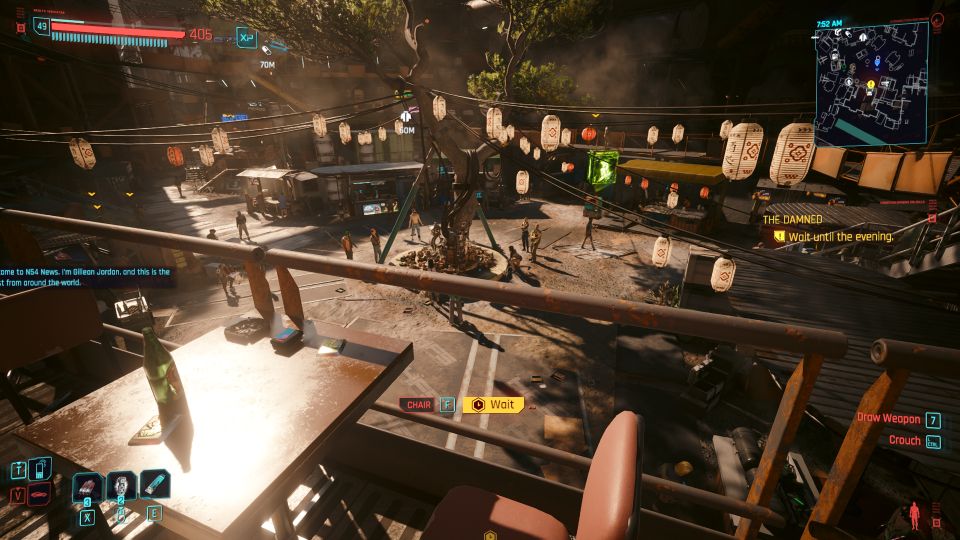 Sit by the bar
When it's night time, sit by the bar.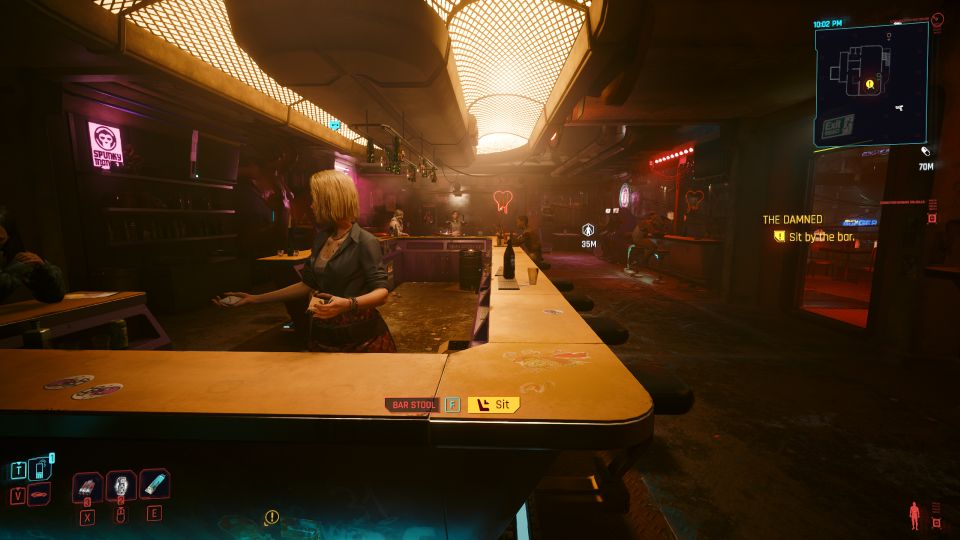 Reed will then call you and show up at the bar.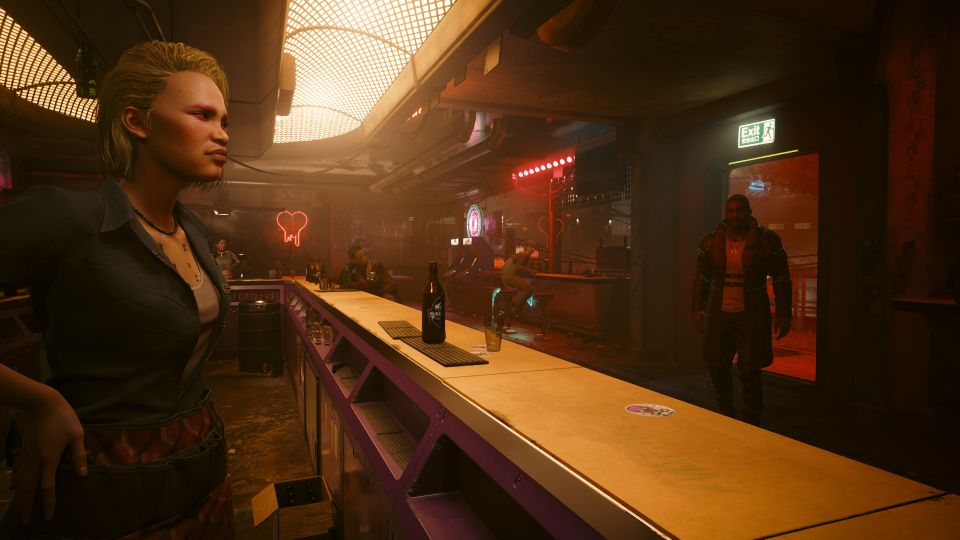 During the conversation, show the coin to Alex to prove that Myers sent them.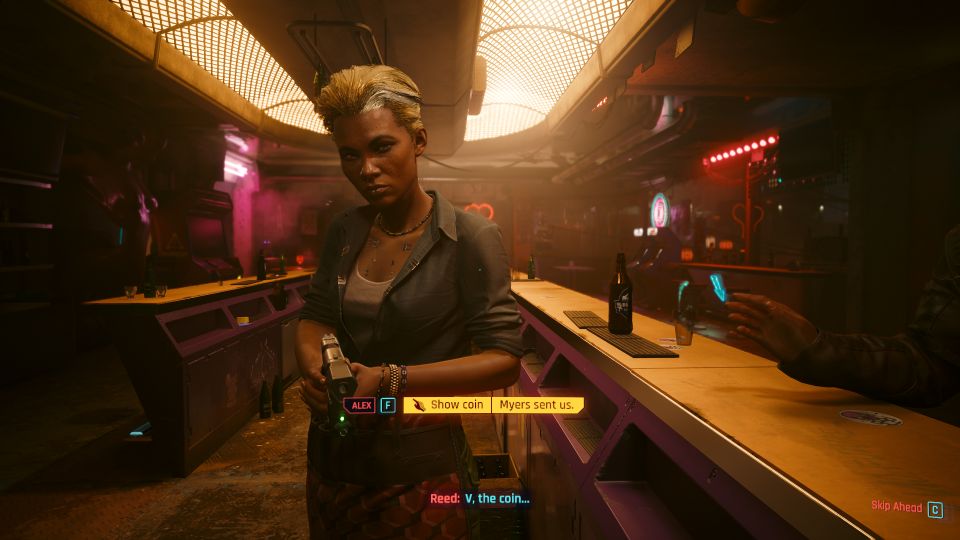 Talk to Alex
Go outside the bar to talk to Alex.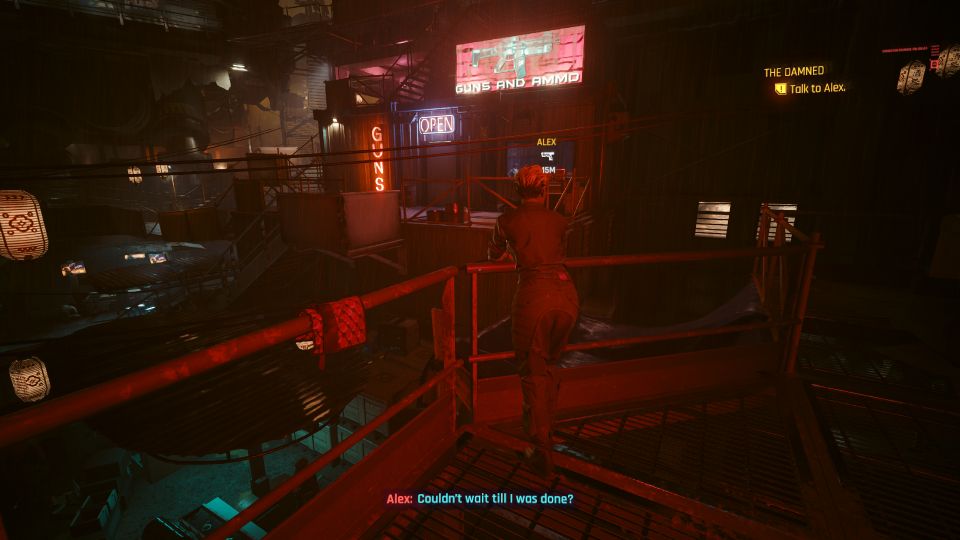 Talk to Reed and Alex
Then, head back in and talk to Reed again.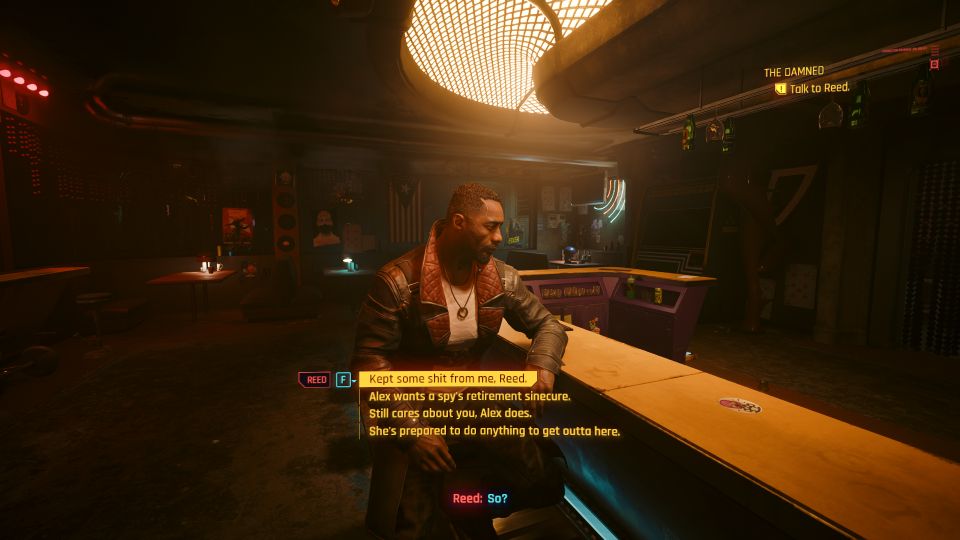 Talk to Alex again when she comes back in.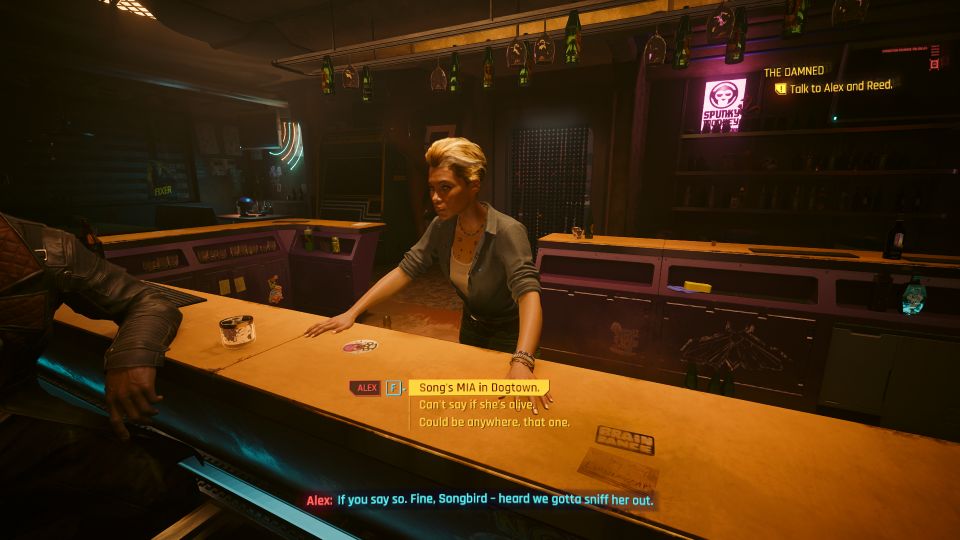 Talk to Johnny
As you leave the bar, Johnny will show up. Talk to him for a bit.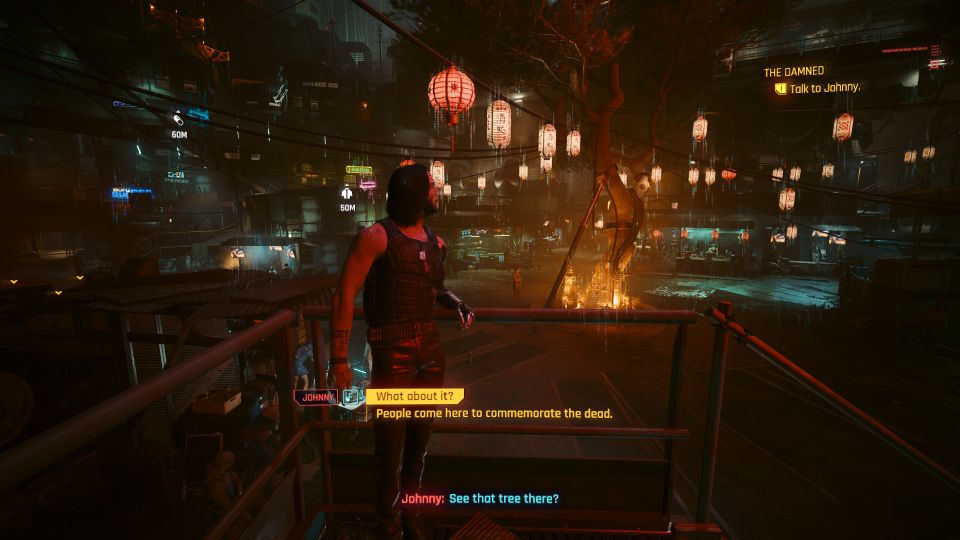 Meet with Reed near Slider's hideout
Head to Slider's hideout as marked in the map below.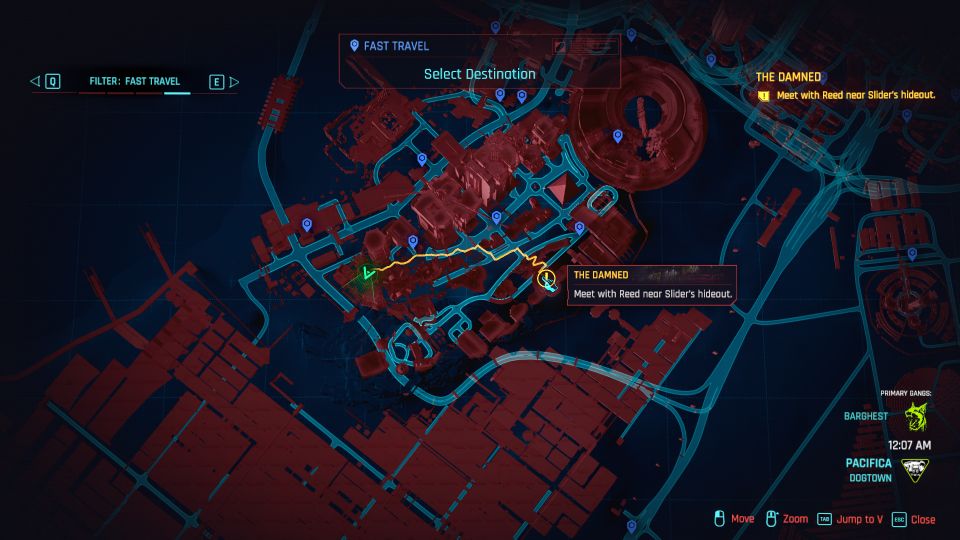 You'll meet Reed there. Just wait by sitting on the chair and he'll show up. Follow Reed.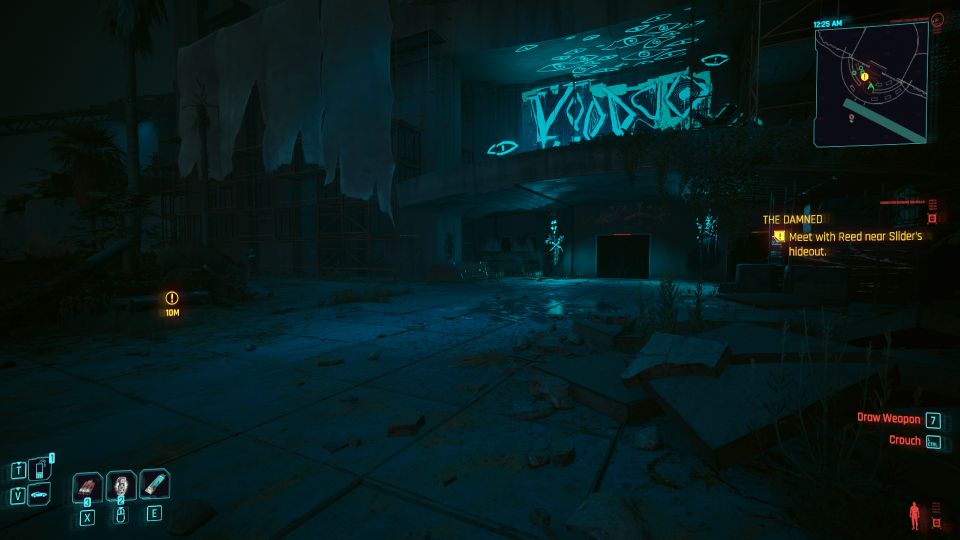 Talk to Reed
Before entering the hideout, you can just go in guns blazing or you can choose to talk. Perhaps there's another stealthy way.
I chose to talk.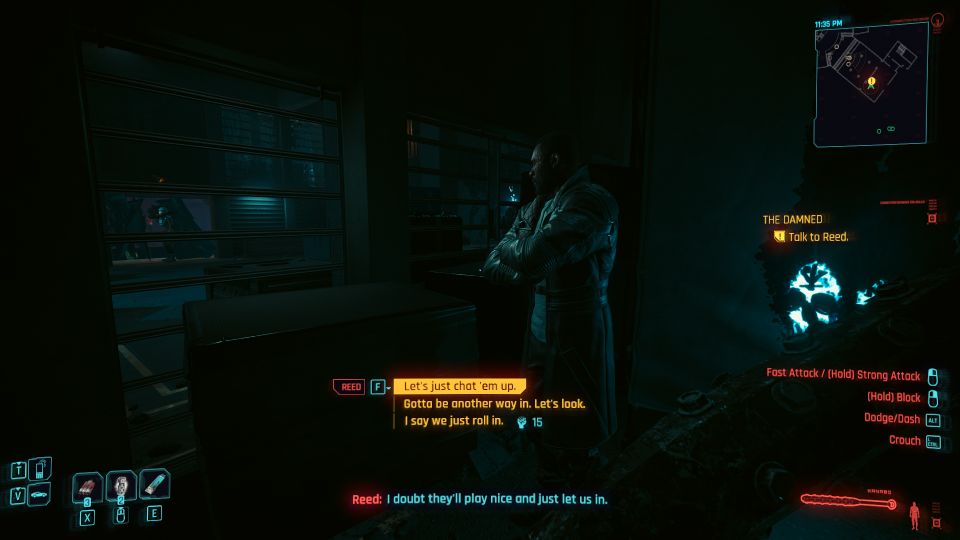 Speak to the guards. During the dialogue, I chose the option that Brigitte and Placide was fine with V.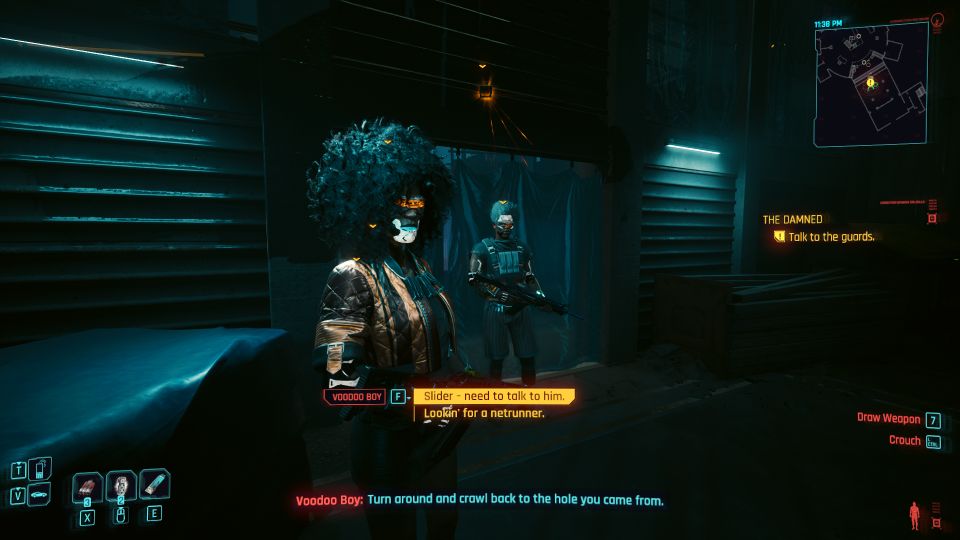 Reach Slider
You can then just walk in without fighting and look for Slider.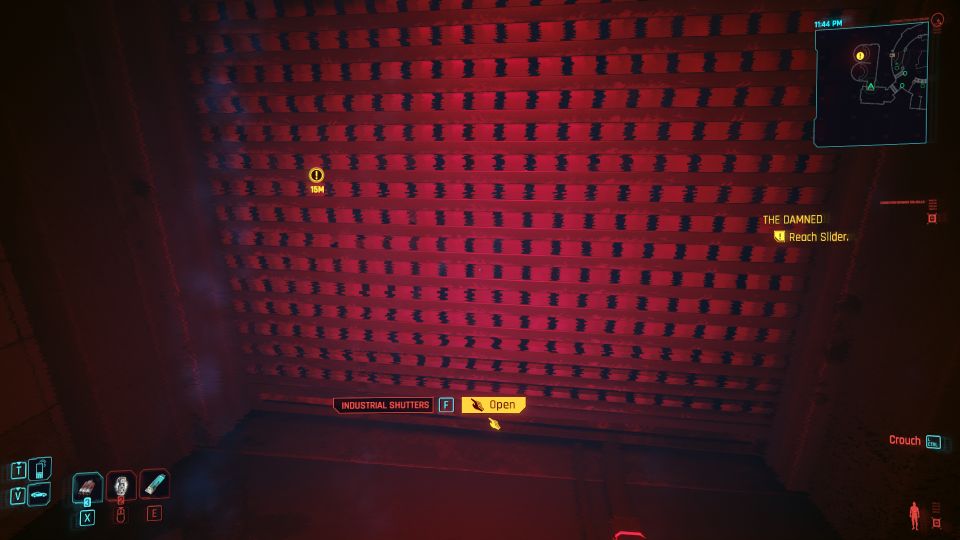 You'll find him in his room.
Talk to Slider
Enter the room and talk to Slider.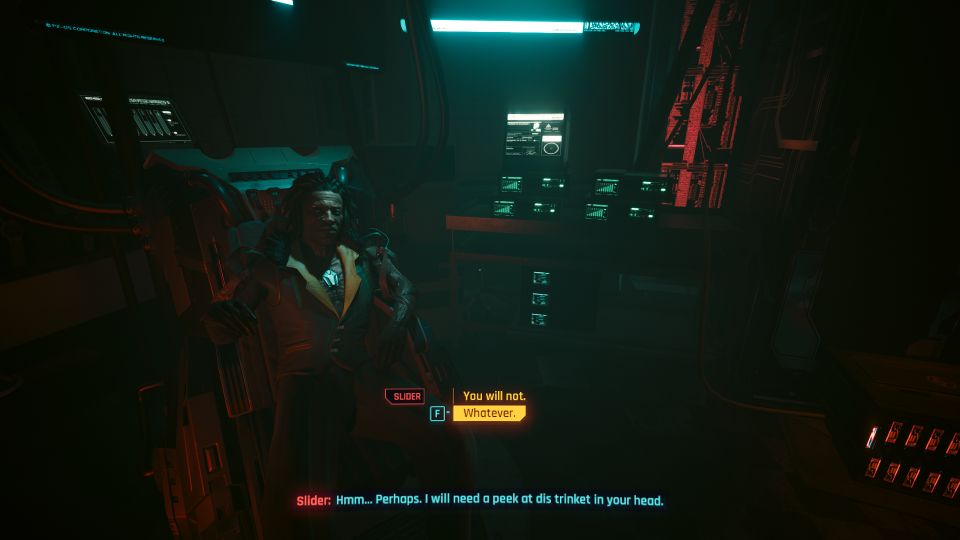 During the dialogue, V will talk about his Relic. Sit and jack in as Slider wishes to check out the Relic and find net traces.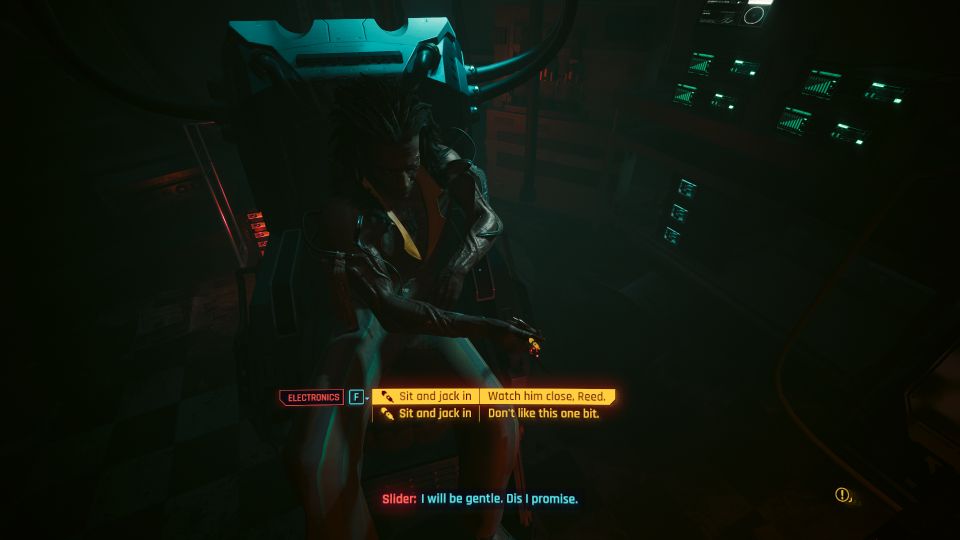 Confirm the data transfer as Slider has no choice but to try and find Songbird.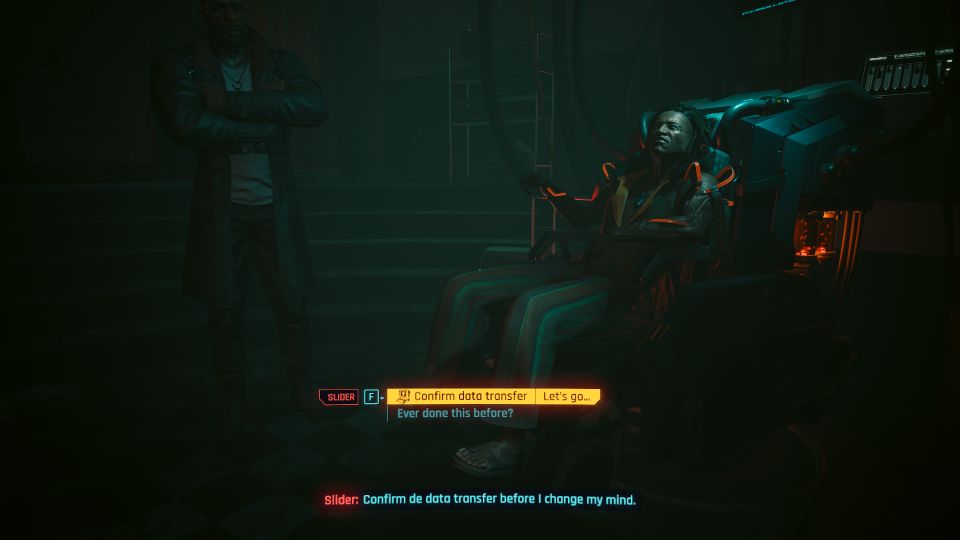 Slider will then get interrupted and Songbird appears. Talk to Songbird for awhile.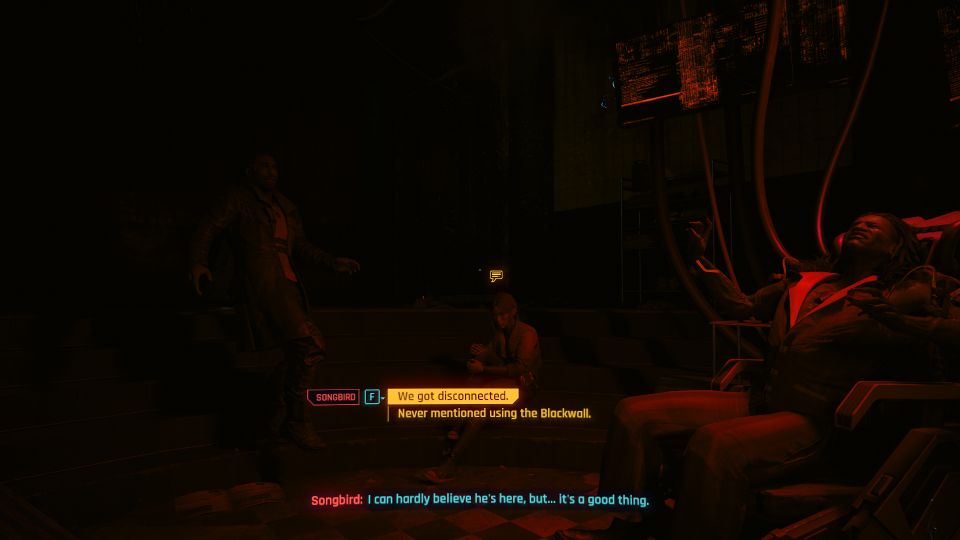 Towards the end, you'll see a choice to "Jack out" and also "Jack him out, Reed!" with 20 Technical Ability.
Both options lead to Slider dying.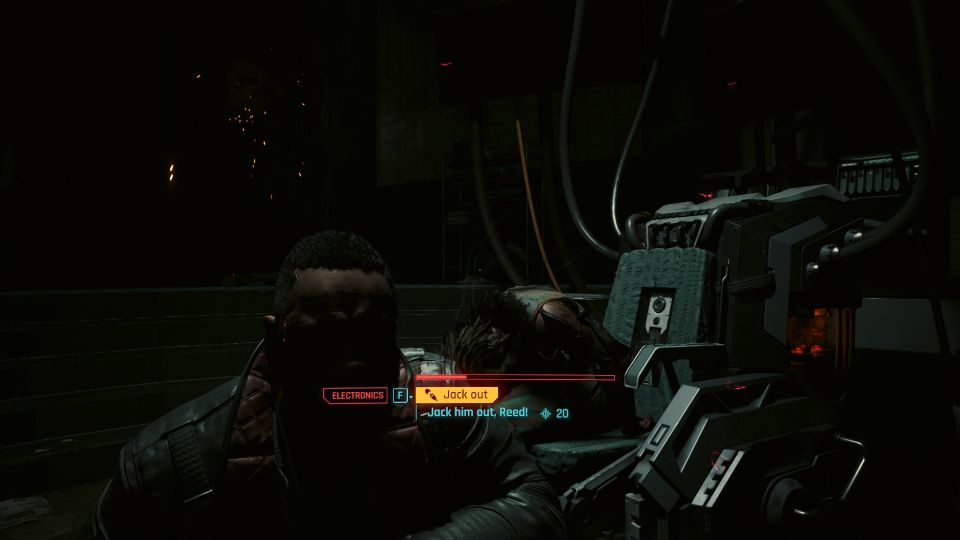 Leave the Voodoo Boys hideout
After Slider's death, leave the hideout. The guards will now be hostile. You can fight or just run past them.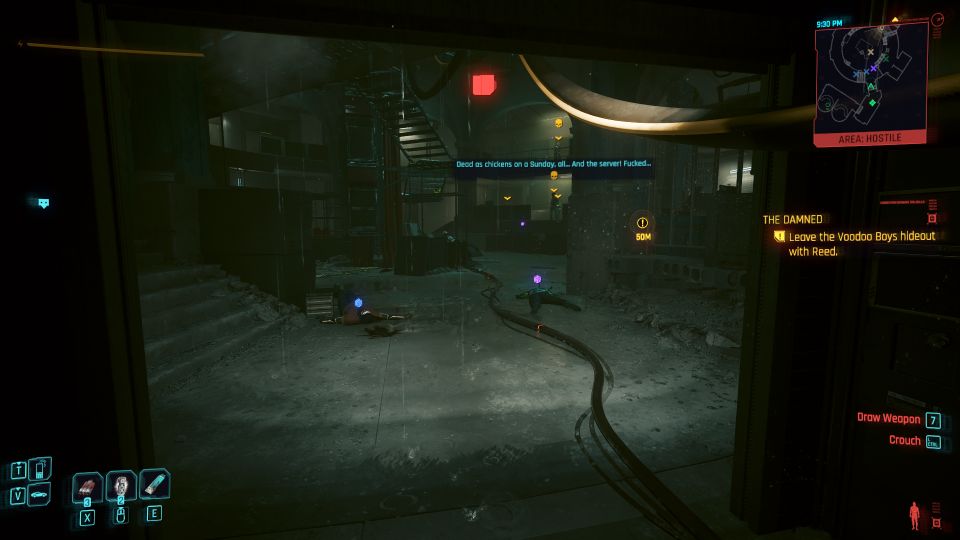 Follow Reed
Exit the building and follow Reed to continue the conversation.
The mission ends here.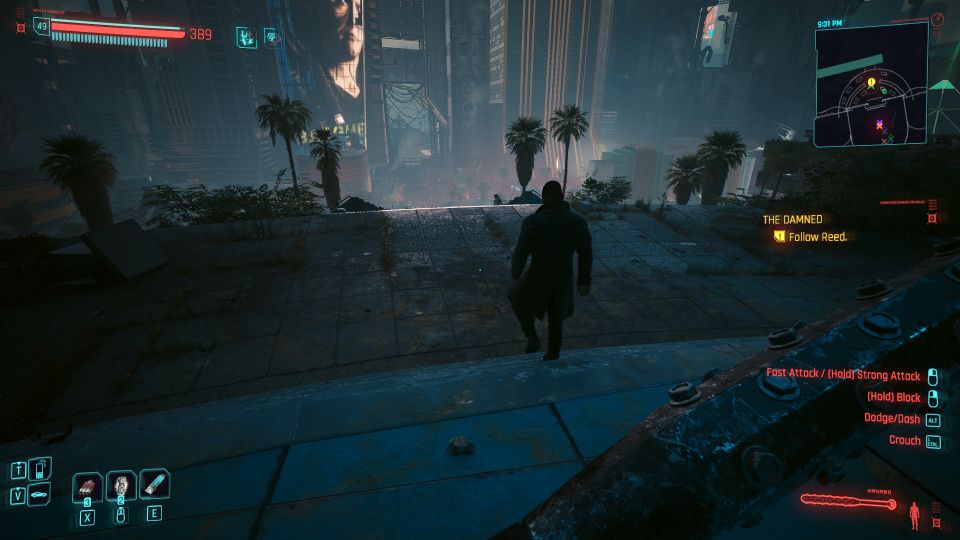 ---
Related posts:
Cyberpunk 2077: Balls To The Wall Walkthrough & Guide