Pyramid Song is a side job / mission with Judy in Cyberpunk 2077.
Your objective is to follow Judy to the underwater Laguna Bend.
Here's a walkthrough of Pyramid Song in Cyberpunk 2077.
There's also a romance option for this job.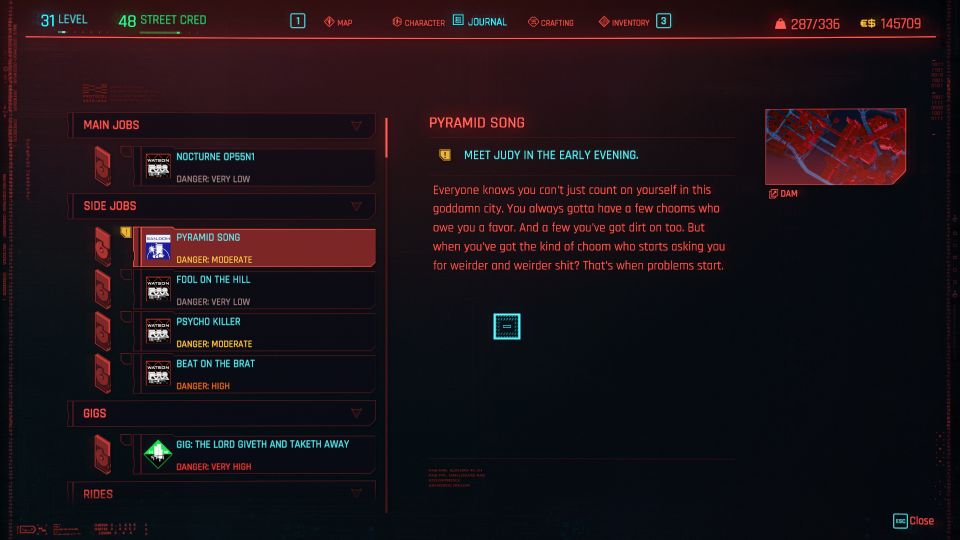 Meet Judy
Head to the location marked on the map to meet Judy.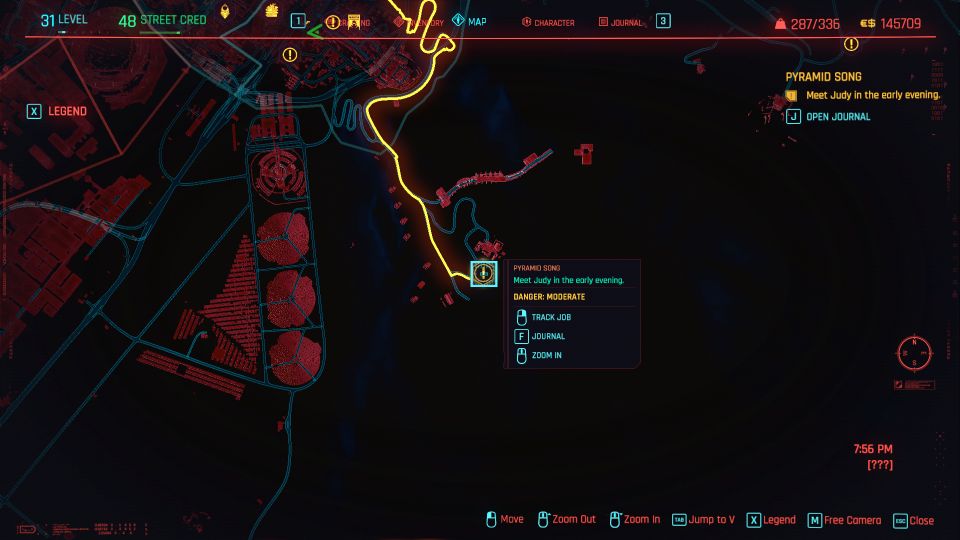 Head there in the early evening. If you're not on time, you can just wait at the house.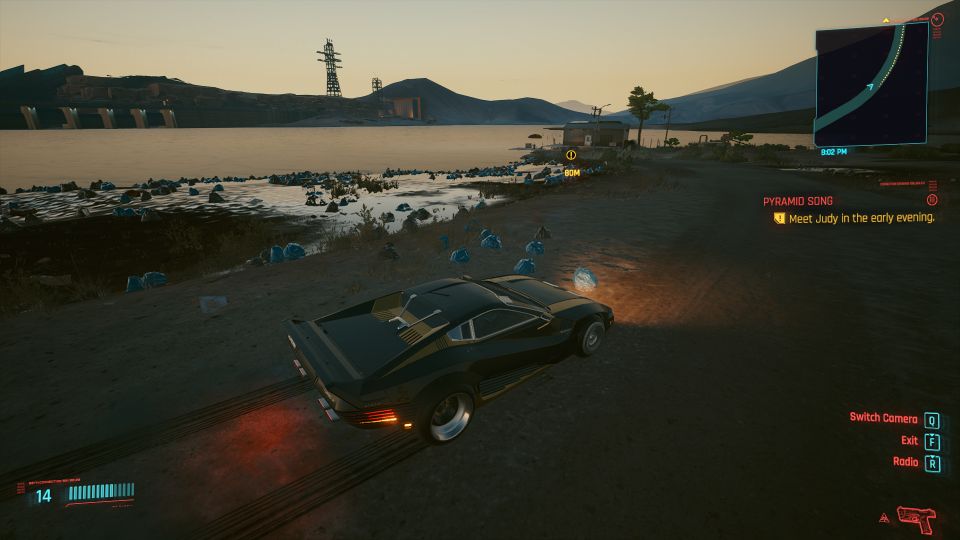 When she arrives, talk to her.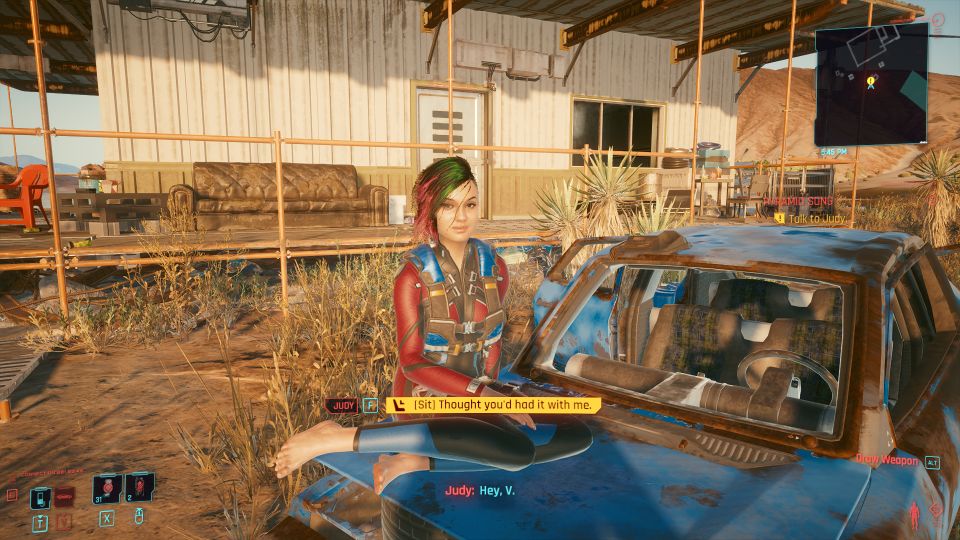 Follow her diving
Next, you can choose to follow her diving into the underwater town.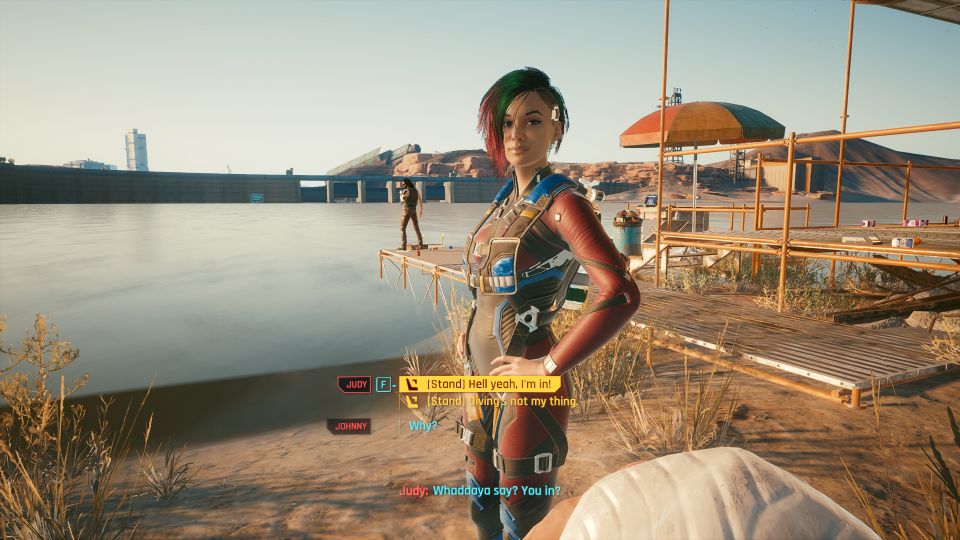 Take the wetsuit from the box.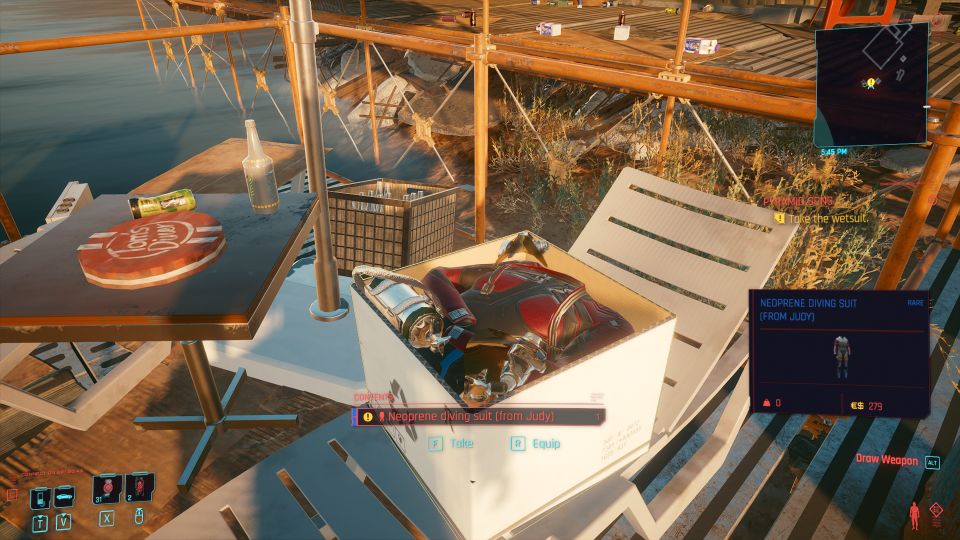 Dive inside
Once you're equipped with the wet suit, dive into the water and she'll follow you in.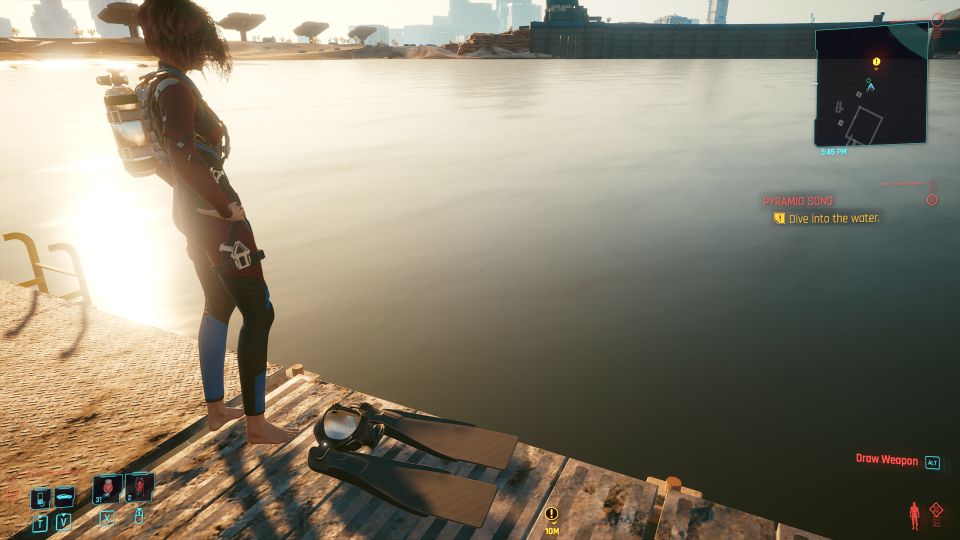 Next, follow her all the way to the destination.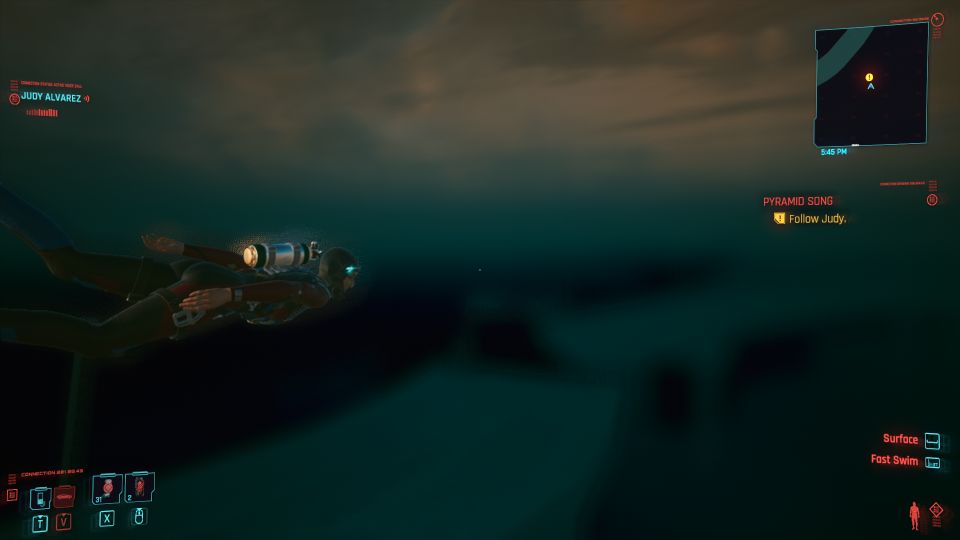 Calibrate gear
She'll ask you to calibrate your gear. You have to first swim around her.
Then, you have to hum back the song.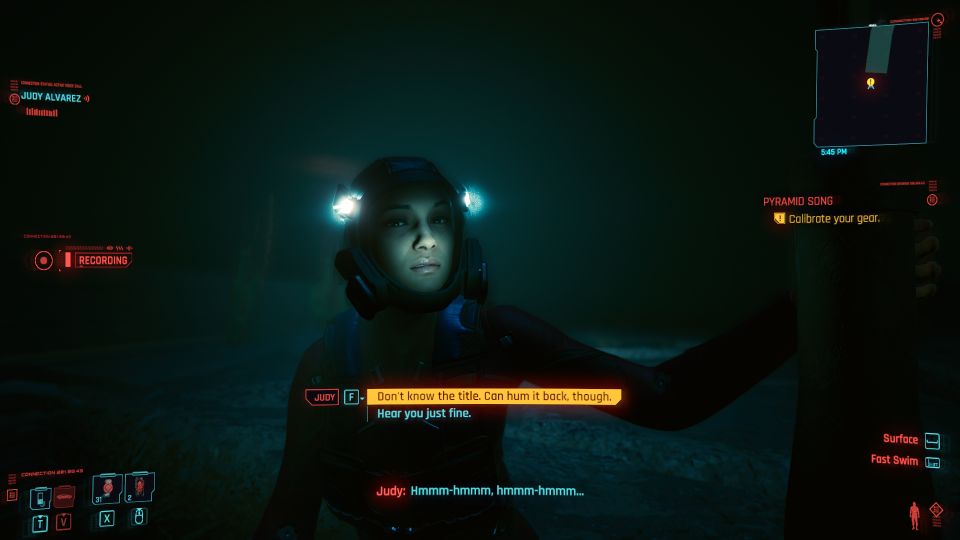 When you're ready, talk to her to go down.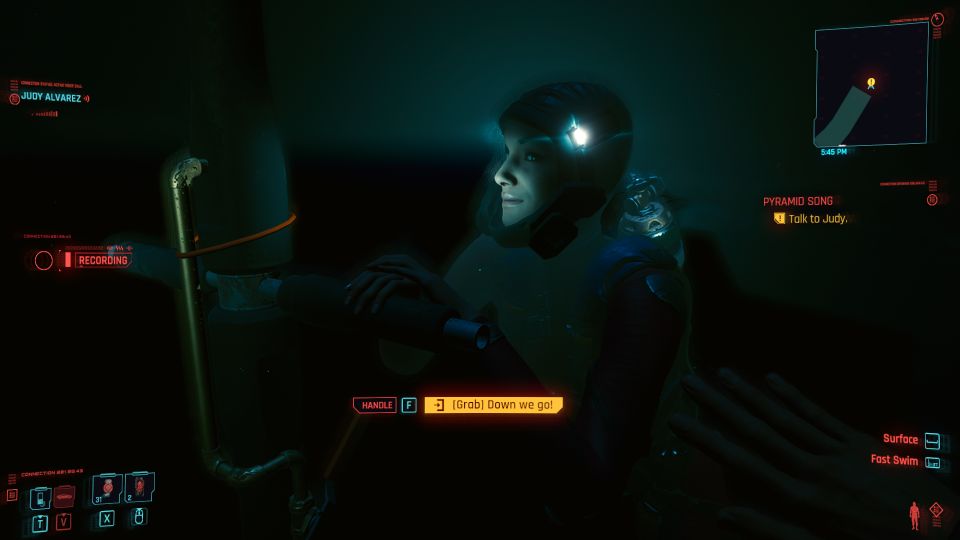 Follow Judy
You will reach a sunken village called Laguna Bend. Follow Judy.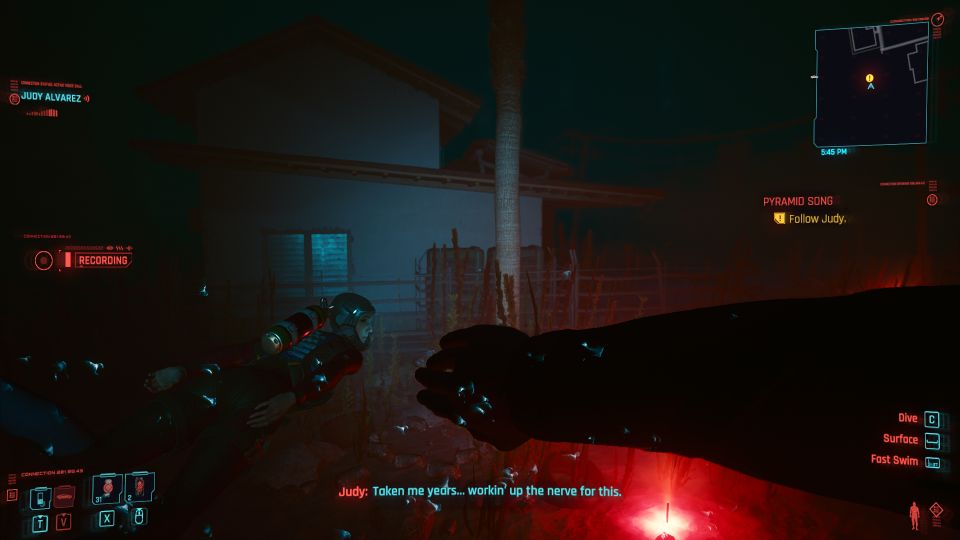 Search for clues around diner and house
You then have an optional objective to look for clues around the diner and house. There are four in total including the big signboard.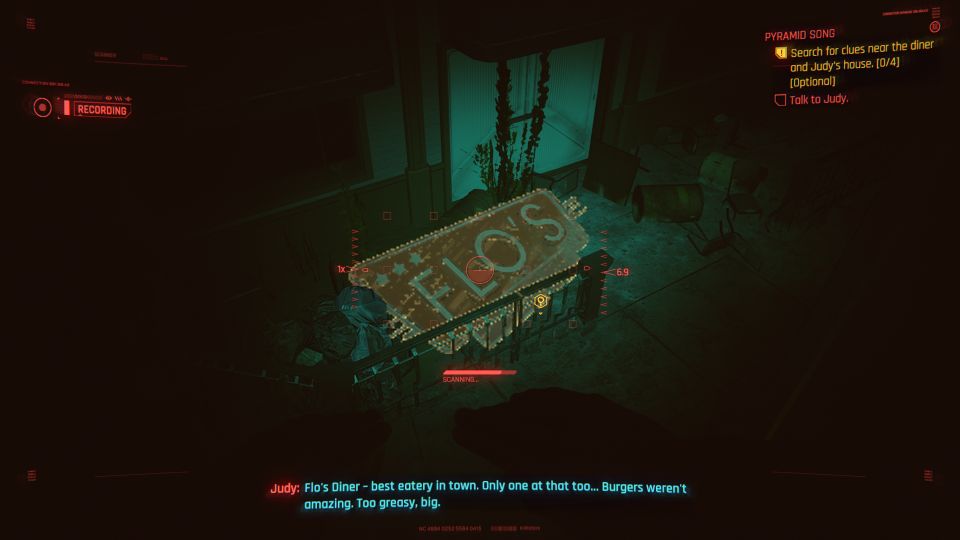 Talk to Judy to continue to the next area.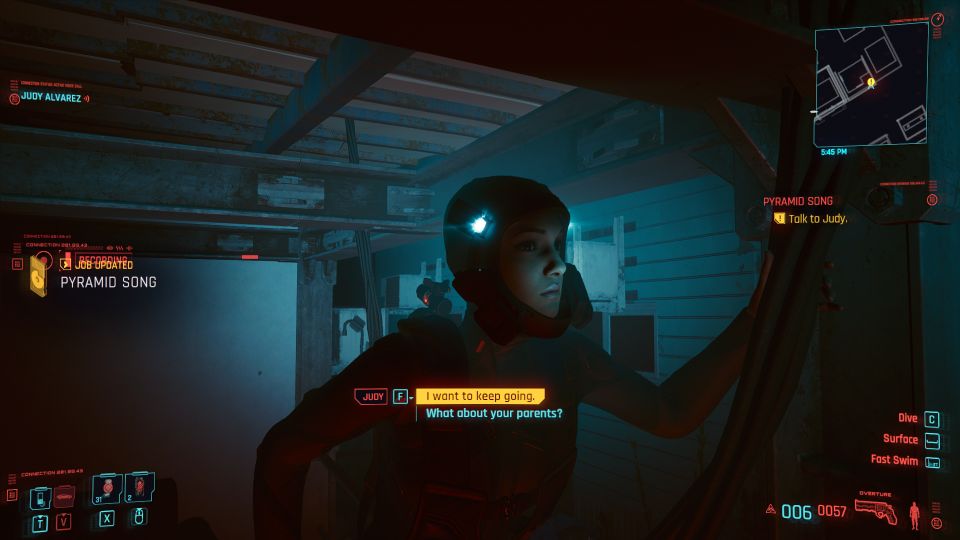 Search for clues near gas station
There are three clues around the gas station, including the car, umbrella and doll.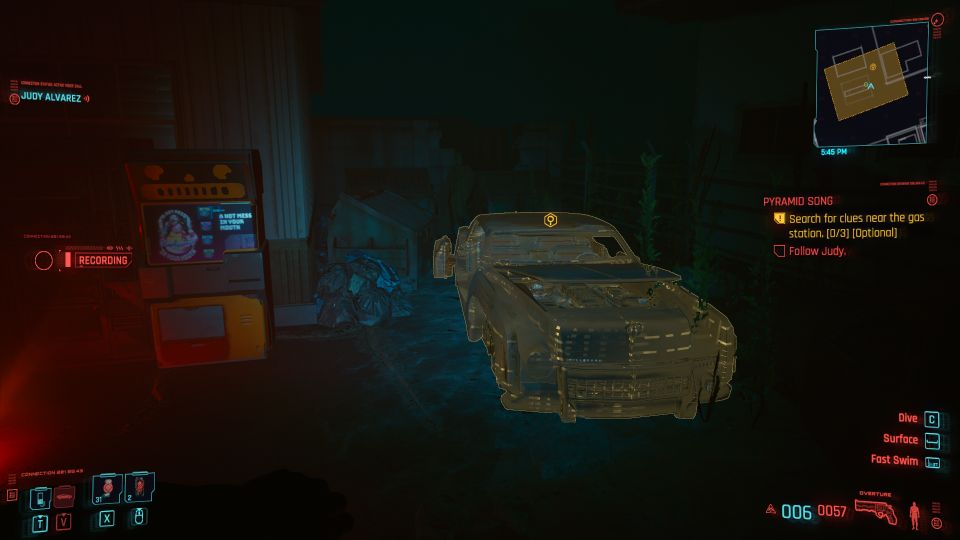 Enter the church
To enter the church, go to the rooftop and dive into the hole.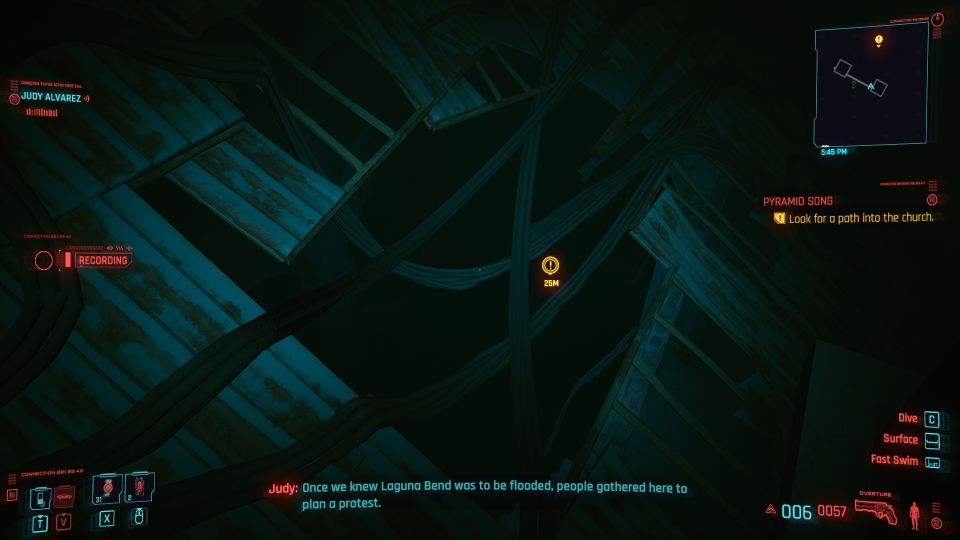 Your Relic will then malfunction inside. V will then black out.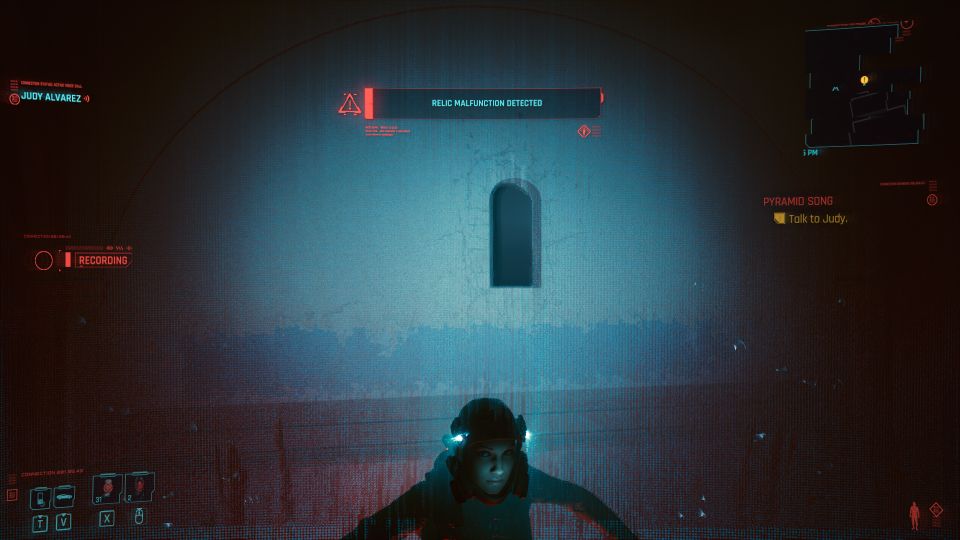 After waking up, you'll be at the surface again as Judy rescued V.
You can choose to stay the night if you want the romance option but the romance option is only for the ladies.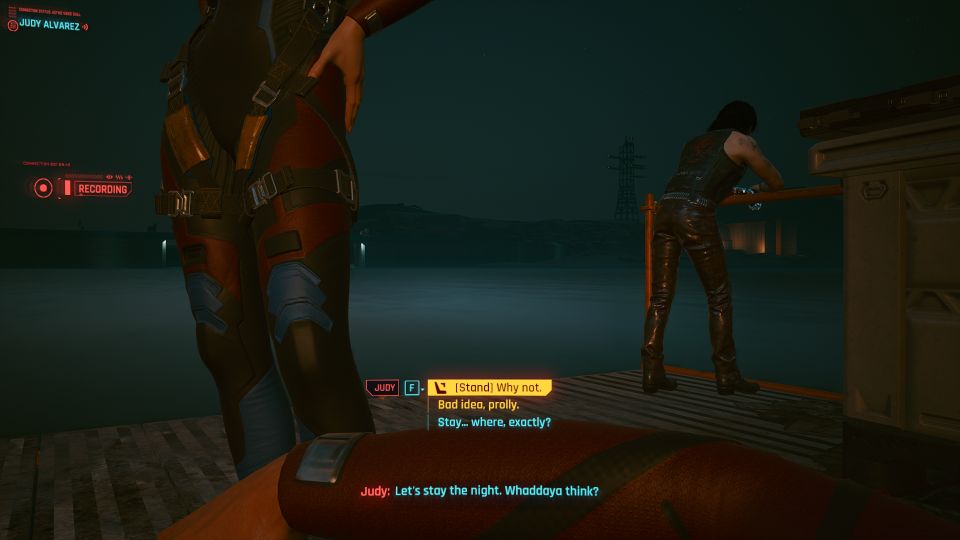 Talk to Judy
Enter the house and she'll ask how you want your coffee. I chose with milk and she said same.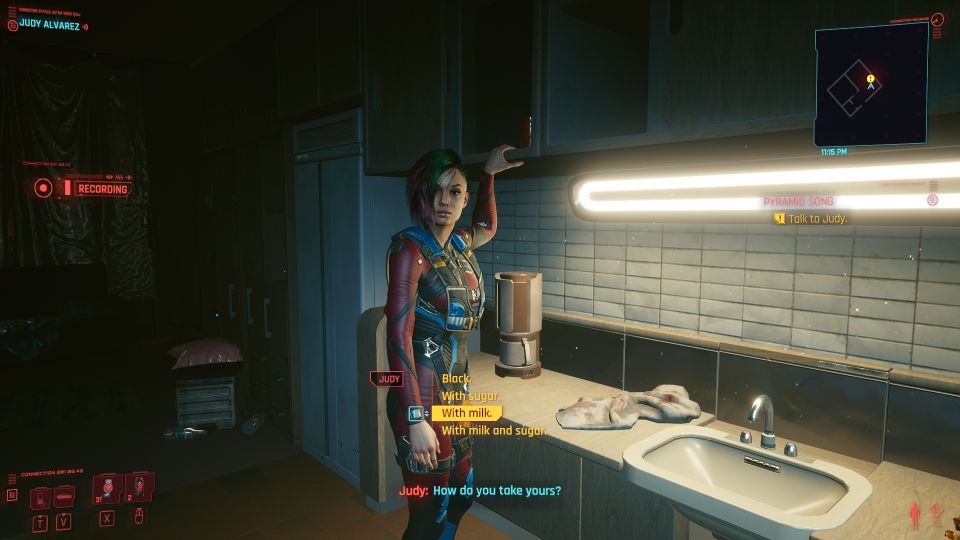 Start the generator
As there's no electricity, start the generator outside.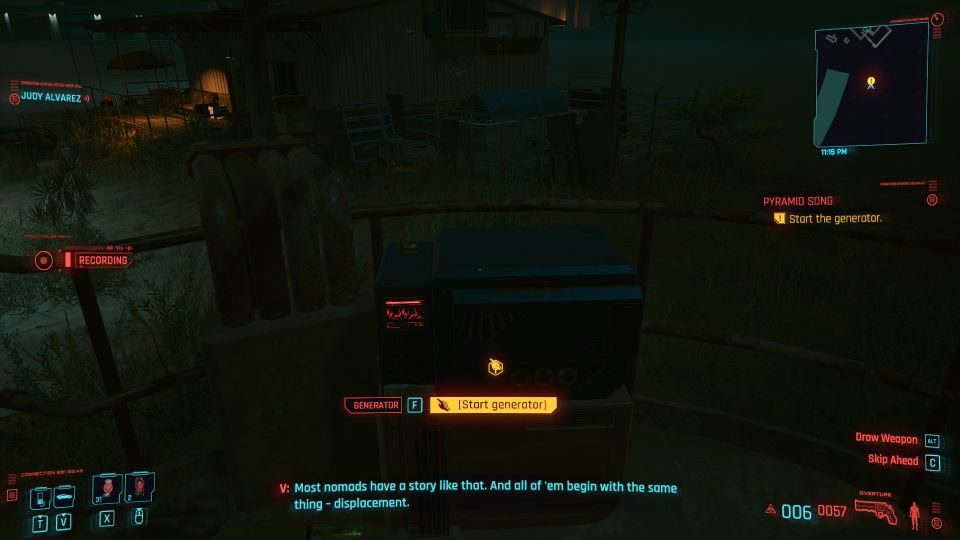 As you enter the house, you will see that Judy has entered the room.
Knock on the door to check on her.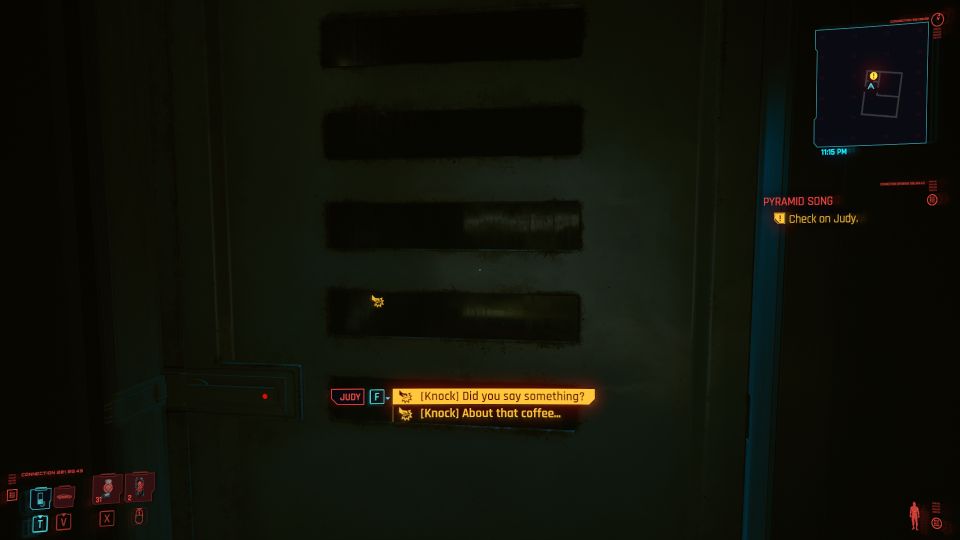 Romance option
Judy will tell you what happened to Clouds, i.e. Tom died and Roxanne almost died as well.
If you're using female V, you have the romance option. Just talk to her and you'll see the options.
For male Vs, you won't get a chance.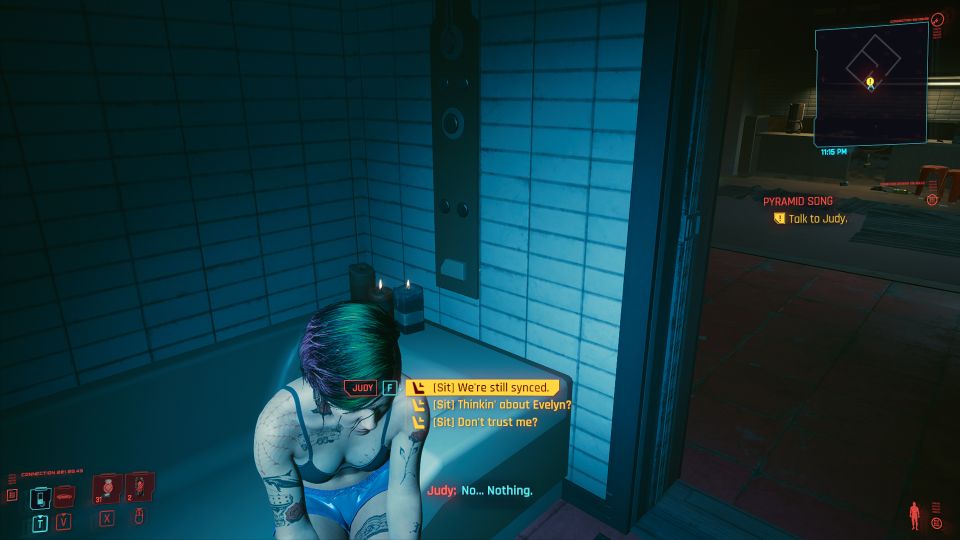 Talk to Johnny
As I used a male V, she will go to bed instead. Talk to Johnny. You can choose to stay the night.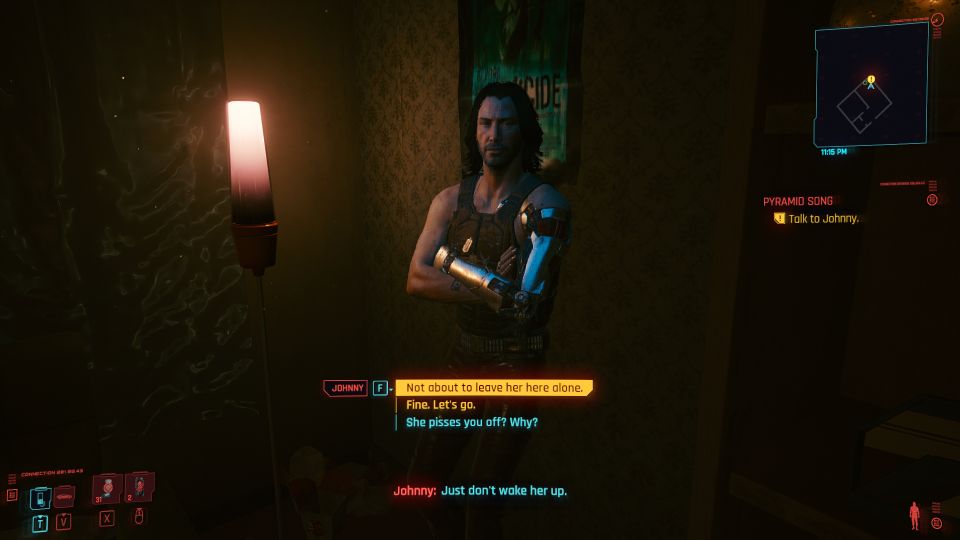 Head to the bed in the other room.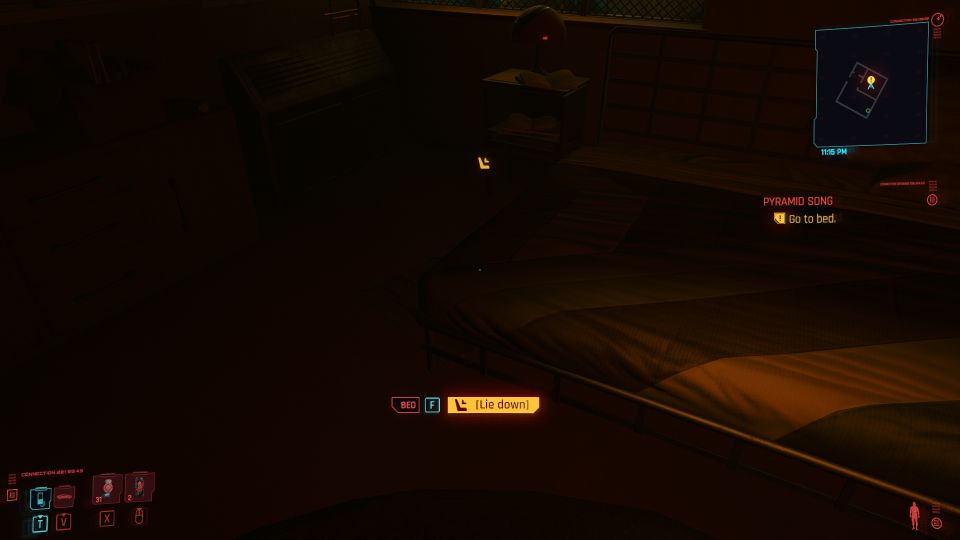 Talk to Judy
The next morning, find Judy outside the house.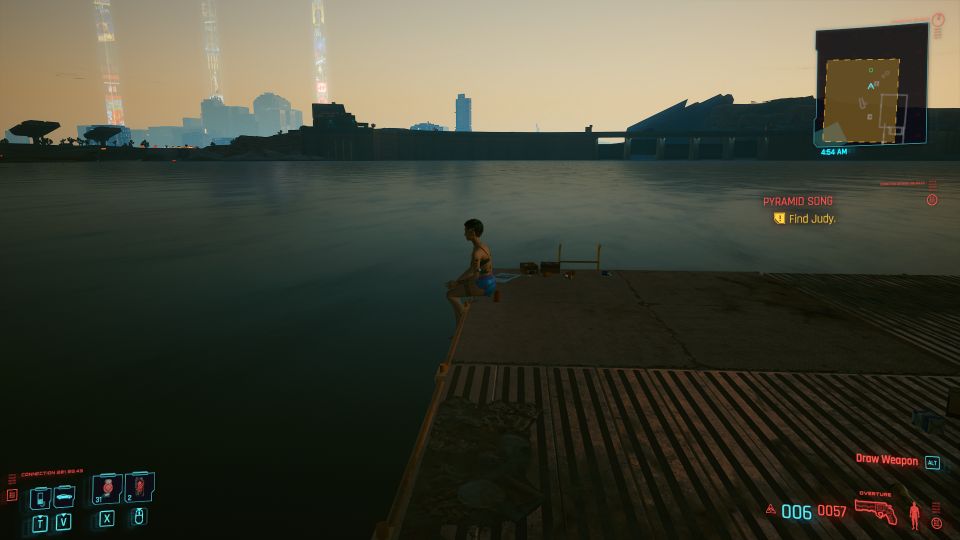 She'll tell you that she's leaving. She will also grant you access to her pad.
The mission ends here.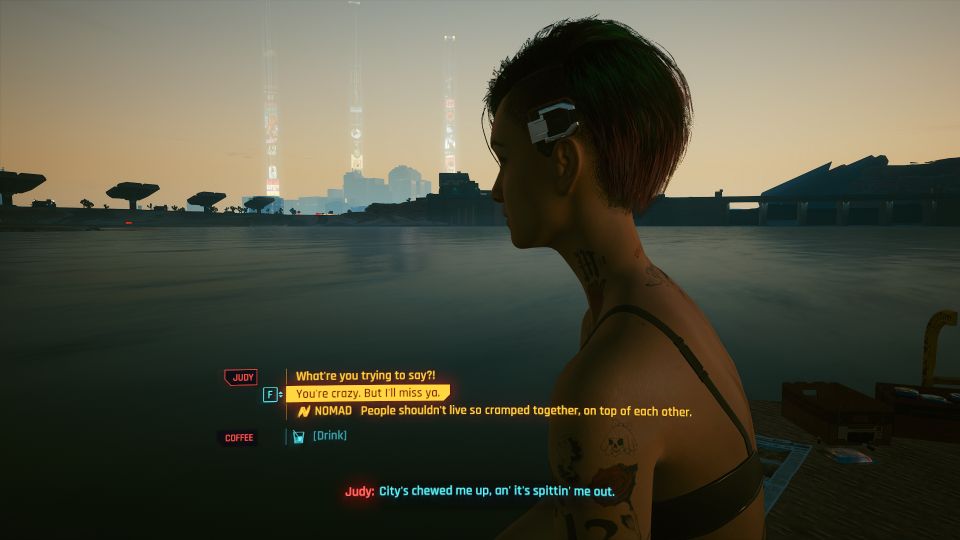 ---
Related posts:
Cyberpunk 2077: I Don't Wanna Hear It Walkthrough
Cyberpunk 2077: Beat On The Brat (Pacifica) Guide
Cyberpunk 2077: Phantom Of Night City Walkthrough