Turn-based strategies and tactical game are just as popular as decades ago. This genre allows people to spend some time thinking about the implication of each move.
Instead of focusing on mechanical aspects of gaming, these games usually make us use our brains and come up with the most efficient solutions.
A great turn-based game is a mix of a strategy and puzzle where each turn is a riddle that you need to solve.
Some of the best games in history were turn-based tactical or strategical games. We want to talk about the best games that did not lose any relevance to modern gamers.
We want to talk about legendary games that did not make our list since some contemporary gamers may not appreciate titles like Fallout, Fallout 2, Baldur's Gate, and original Civilization.
Even Heroes of Might and Magic III is a title reduced to a very niche game with a small community. While we cannot deny that these classic games still can be entertaining, we have to look forward!
Here are some of the best turn based games of all time.
1. Civilization V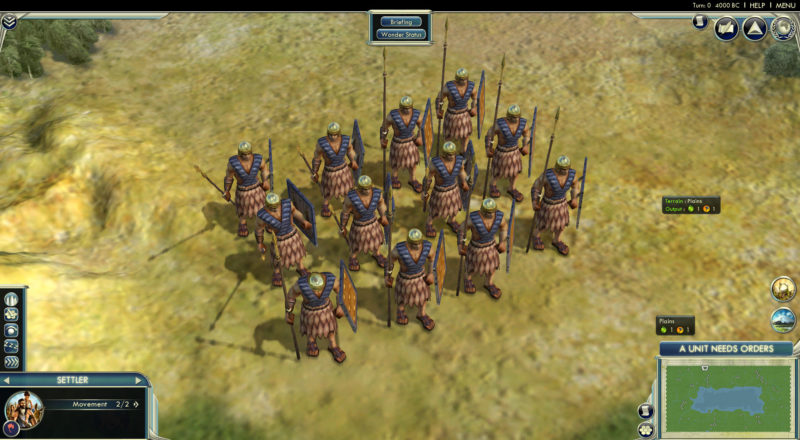 Sid Meyer's Civilization is one of those games that reshape the industry. It was a stellar experience from the get-go. It was a journey through history. While both Civ III and IV were praised for gameplay, Civilization V is one of the best games in the series and delivers a memorable experience.
It is a sophisticated gaming experience with various ways to win any given scenario and intense diplomatic or military endeavors requiring meticulous thinking on the player's part.
Civilization V is a special game where Zulu's empire can enter the atomic era faster than the US. Hundreds of mods and DLC packs later, the game is still considered better than the latest Civilization game. The sixth entry did not manage to earn the same universal acclaim as the fifth one.
If you want to check out a game that will most certainly impress you with complexity and depth, check out Civilization series and start from CIV V.
2. XCOM 2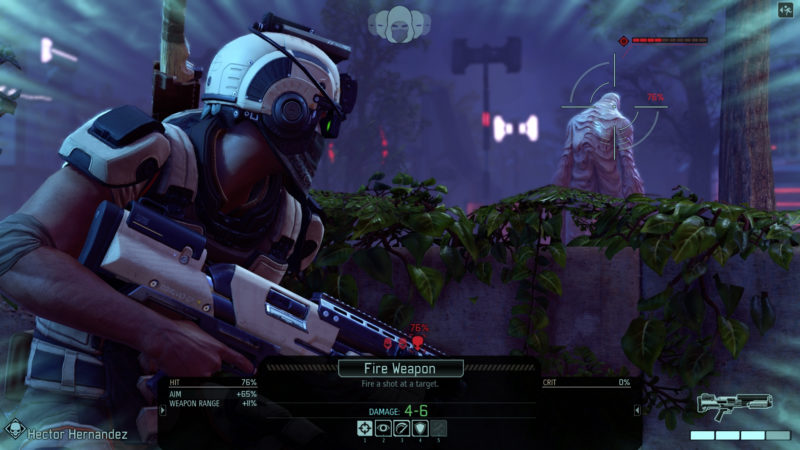 XCOM series is believed to be one of the finest turn-based game franchises of all time. The story is more than compelling. You are leading a special government organization called XCOM with the sole purpose of preventing aliens from conquering Earth.
The original game was a great mix of sci-fi storytelling and great tactical battles. However, XCOM 2 elevated the original to a new level and managed to make a statement! The franchise is alive and looks even stronger than before!
XCOM 2 is all about the progression from one point to another. Your main base is a flying fortress that can be expanded and upgraded. Your army grows stronger with each region helping you with everything it can. The story is even more intense as we start after the world had been conquered by alien invaders who are searching for new organisms with powerful psychic abilities.
You are now leading a resistance group that operates in small squads that have to focus on diversions and assassinations instead of head-on fighting.
The turn-based combat system features lots of great mechanics never explored before. You rely heavily on stealth at the beginning of each mission and have limited time to complete the main objective. Different enemies and destructible environment make every single encounter a challenge.
You can make squads as versatile or as specialized as you need depending on your preferences. The latest DLC War of the Chosen is a great addition to the main game.
3. Wasteland 2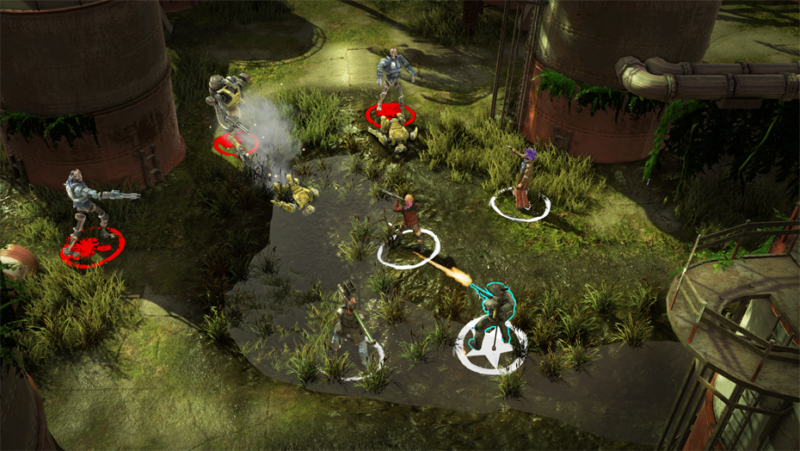 The original Wasteland was a classic game considered by many the godfather of post-apocalyptic games. It was an intense adventure in a dark gritty world full of strange characters and futuristic technology.
Wasteland 2 is a solid continuation with much-improved graphics and a compelling story. If you liked Fallout and Fallout 2, this game with isometric view and impressive (even by today's metrics) 3D graphics will blow your mind!
Surviving in a post-apocalyptic world is hard but you can deal with it and even save the world around you once or twice. Over the course of the game, you will be building a strong party with specialized characters.
You will find powerful weapons and armor to make them immensely strong. You will face ravaging gangs, huge robots, mutated monsters, and other weird creatures.
4. King's Bounty Series
With the exclusion of that terrible Facebook game, the King's Bounty series is a stellar gaming experience. The original game was developed in 1990. It was praised for great storytelling and exciting turn-based combat.
The 2008 sequel King's Bounty: The Legend was welcomed by fans and instantly became a classic. The new game developed by Katauri Interactive received several sequels including critically acclaimed Armored Princess and Warriors of the North.
As a heroic knight, you have to travel across a fantastical world and kill countless hordes of enemies while resupplying at taverns and castles. Many gamers compared this series to Heroes of Might and Magic. In fact, HoMM III is heavily inspired by KB and features many similar gameplay elements including turn-based combat mechanics and battle magic.
King's Bounty offers you a chance to explore a world with deep lore and tons of quests. You will draft your army from a big pool of creatures including dwarves, orcs, goblins, undead, and even dragons.
5. Sword of the Stars: The Pit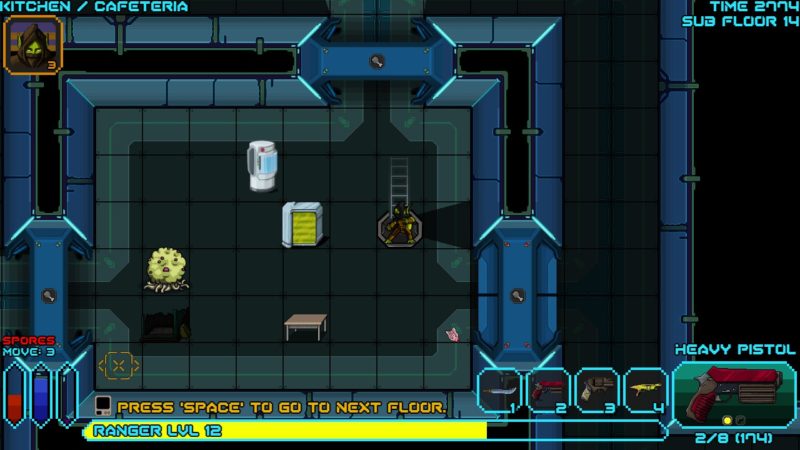 Sci-fi games are usually action-packed shooters or action RPGs. However, some are turn-based tactical wargames. SotS is none of that. It is a dungeon crawler with an incredibly complex and entertaining turn-based system.
You are a hero who explores a huge research facility on an ancient planet. The whole galaxy is plagued with an unknown disease and the key to the cure is hidden somewhere underneath this research facility run by Zuuls.
SotS is all about repetition and learning. It is impossible to beat the game from the first try. In fact, it is impossible to beat the game after several attempts. You will have to die many times before finding enough recipes for crafting stations.
While enemies alone are capable of killing you even if you wear the best armor and use the strongest weapons, you also have to keep track of hunger and environmental hazards. The dungeon is filled with traps and surprises.
Every single run is unique due to a wide variety of crafting options allowing you to build immensely powerful weapons using duct tape and batteries or any other garbage that you find along the way. It is certainly one of the best games in the dungeon crawler genre and a perfect turn-based RPG!
6. The Darkest Dungeon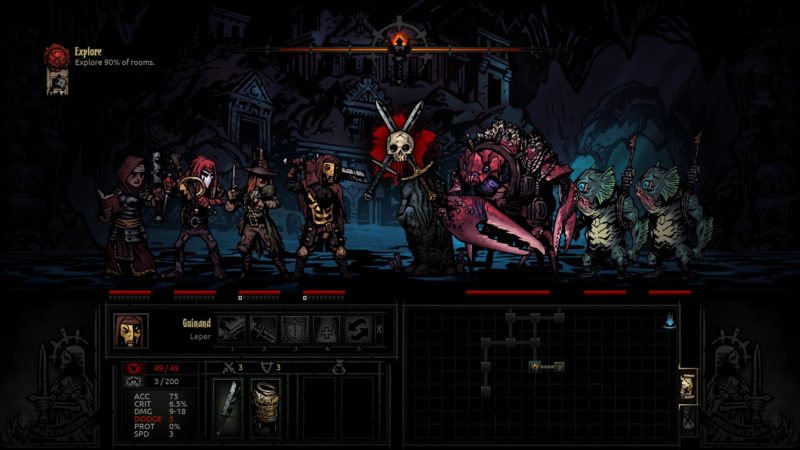 When talking about turn-based games, this game immediately comes to mind. A ruthless gaming experience wrapped into a memorable artistic style manifested in every single aspect of this game: from gritty dark visuals to exceptional narration that spawned countless memes on the internet.
The Darkest Dungeon is a game that wants you to fail. You will break a couple of keyboards before you finally get a good grasp on how to beat this incredibly hard dungeon crawler.
The story is also quite interesting. While the main attention is drawn towards the deep lore full of great backstories, you have a compact main story to follow. The ancestor is the narrator. The intro tells us that he lost his mind while digging deep into the dungeon underneath his mansion. Now, you have to go back and restore the lands.
The game quickly teaches you that heroes are weak and should be treated as an expendable resource. You will have to make tough choices every time you are presented with one. Finding anything that could be considered a positive boon is nearly impossible. Every good character quirk comes with a downside.
Each item has some nasty stat that players hate seeing. Every build has weaknesses. Exploring dungeons is actually dangerous. Even a measly skeleton can kill one of your best heroes if odds are stacked against you. A fabulous game indeed.
7. Invisible Inc.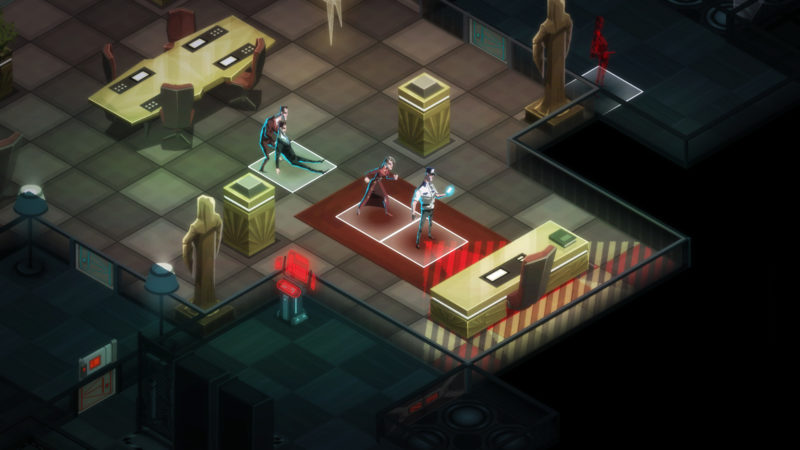 Since we are finishing our list with indie games, it is hard to forget about Invisible Inc. While there are many sci-fi or fantasy turn-based games, Invisible Inc. tackles a completely different world: the world of spies who have to steal information in the age of advanced technology.
The game showcases outstanding visual design with cool special effects, smooth animation, and colorful backgrounds. Attention to details is just mind-boggling considering that the game was made by a relatively small studio responsible for such hits as Don't Starve and Shank.
You will control several trained spies who must take down an evil corporation. Every single mission is a masterpiece of turn-based stealth gameplay. You have to take into consideration layouts, traps, enemies, and available equipment while carefully threading through complicated mazes of research facilities and heavily defended military bases.
Honorable Mentions
We cannot really describe every single turn-based game that deserves your attention.
Here are several great games that did not make the list: Divinity: Original Sin II, Thronebreaker: The Witcher Tales, Slay the Spire, and Into the Breach.