Ayaka is the latest 5 star character in Genshin Impact and is the first one after Inazuma is released. She is a cryo-based character and is usually placed as a main DPS in a team.
Her banner will only be for a limited time and will be replaced by Yoimiya soon.
In the meantime, here are some of the best Ayaka builds, weapons, artifacts and more in Genshin Impact.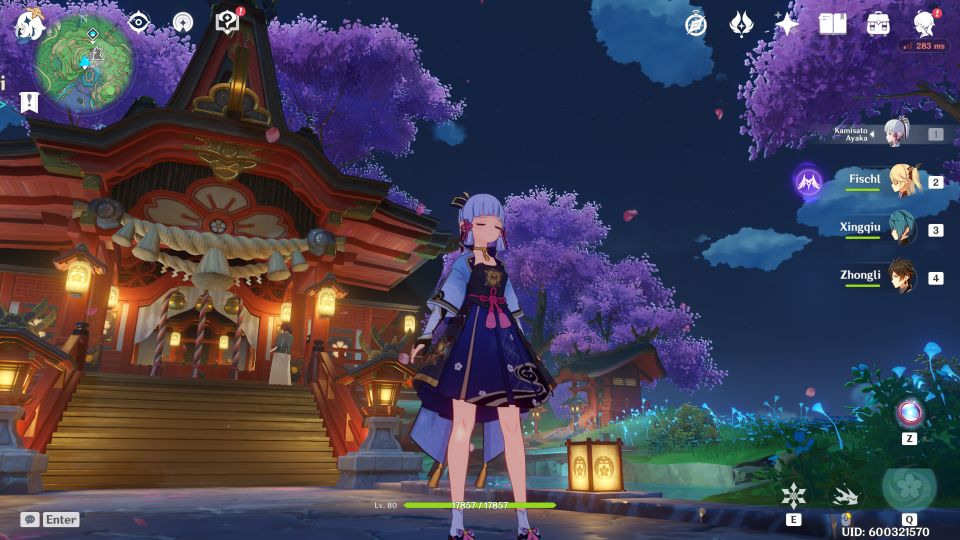 Ayaka DPS Build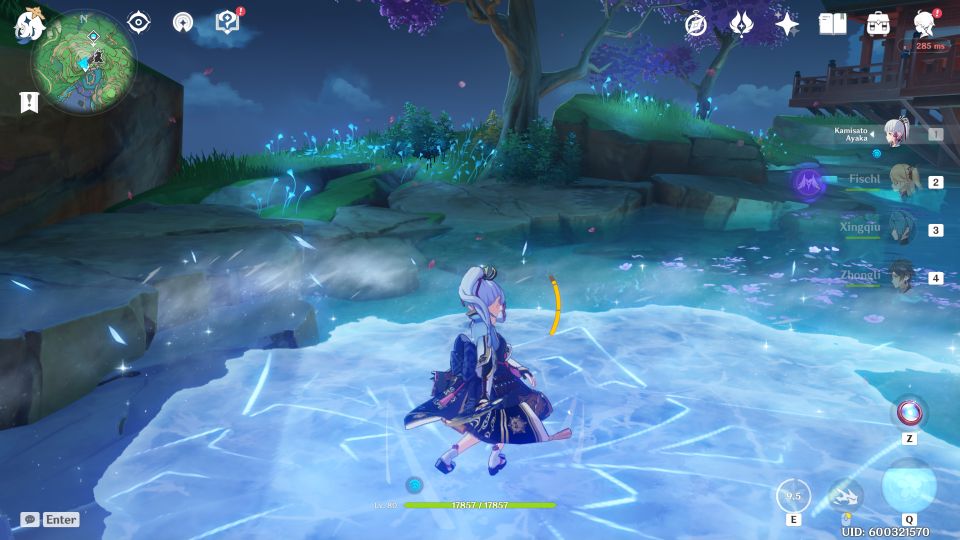 Based on Ayaka's talents and skills, she's clearly meant as a DPS, either main or sub DPS.
Among her talents, her elemental burst is the one that deals massive DMG, capable of taking down bosses in a single burst with a good weapon and artifacts.
If you're running her with a Crit Rate weapon and a four-piece Blizzard Strayer set, you don't need much Crit Rate in your artifacts. You should prioritize Crit DMG if that is the situation.
Also, you might want to run her in a permafreeze team comp, with a good Hydro applier like Sucrose, and possibly another Cryo character. This allows her to utilize the 40% Crit Rate bonus from the Blizzard Strayer set almost all the time.
Best weapons for Ayaka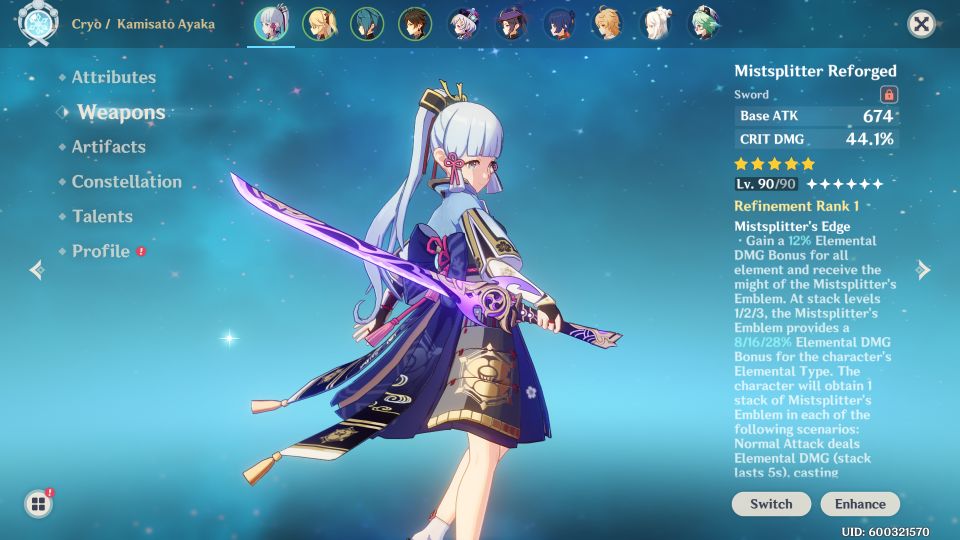 The optimal choice for pay-to-win players would be Mistsplitter Reforged. It comes with a base attack of 48 and Crit DMG sub-stat.
For refinement level 1: Gain a 12% Elemental DMG Bonus for every element and receive the might of Mistsplitter's Emblem. At stack levels 1/2/3, Mistsplitter's Emblem provides a 8/16/28% Elemental DMG Bonus for the character's Elemental Type. The character will obtain 1 stack of Mistsplitter's Emblem in each of the following scenarios: Normal Attack deals Elemental DMG (stack lasts 5s), casting Elemental Burst (stack lasts 10s); Energy is less than 100% (stack disappears when Energy is full). Each stack's duration is calculated independently.
Alternative weapons
1. Primordial Jade Cutter – 5 star weapon with 44 base attack and Crit Rate sub-stat.
Refinement level 1: HP increased by 20%. Additionally, provides an ATK Bonus based on 1.2% of the wielder's Max HP.
2. The Black Sword – 4 star weapon with 44 base attack and Crit DMG sub-stat.
Refinement level 1: Increase DMG dealt by Normal and Charged Attacks by 20%. Additionally, regenerates 60% of ATK as HP when Normal and Charged Attack score a CRIT Hit. This effect can occur once every 5s.
3. Blackcliff Longsword – 4 star weapon with 42 base attack and Crit Rate sub-stat.
Refinement level 1: After defeating an opponent, ATK is increased by 12% for 30s. This effect has a maximum of 3 stacks, and the duration of each stack is independent of the others.
4. Amenoma Kageuchi. A 4-star weapon with 41 base attack and ATK sub-stat.
Refinement level 1: After casting an Elemental Skill, gain 1 Succession Seed. This effect can be triggered once every 5s. The Succession Seed lasts for 30s. Up to 3 Succession Seeds may exist simultaneously. After using an Elemental Burst, all Succession Seeds are consumed and after 2s, the character regenerates 6 Energy for each seed consumed.
Best artifacts for Ayaka
1. Blizzard Strayer set (4)
Having a four-piece Blizzard Strayer set is really good for Ayaka as she basically gets 40% Crit Rate bonus when an enemy is frozen. This works well with a perma-freeze team. If you're running a freeze-comp, you can prioritize more Crit DMG on your artifacts. Even more so if you're using a Crit Rate weapon.
2. Blizzard Strayer set (2) & Noblesse Oblige (2)
3. Blizzard Strayer set (2) & Gladiator (2) / Shimenawa (2)
Sub-stats priority
For the sub-stats, the priority should be similar with other main DPS characters.
Sands: ATT%
Goblet: Cryo DMG%
Circlet: Crit Rate / Crit DMG depending on which you need more.
For general sub-stats on the artifacts, usually aim for Crit Rate / Crit DMG when possible.
Ayaka's Talents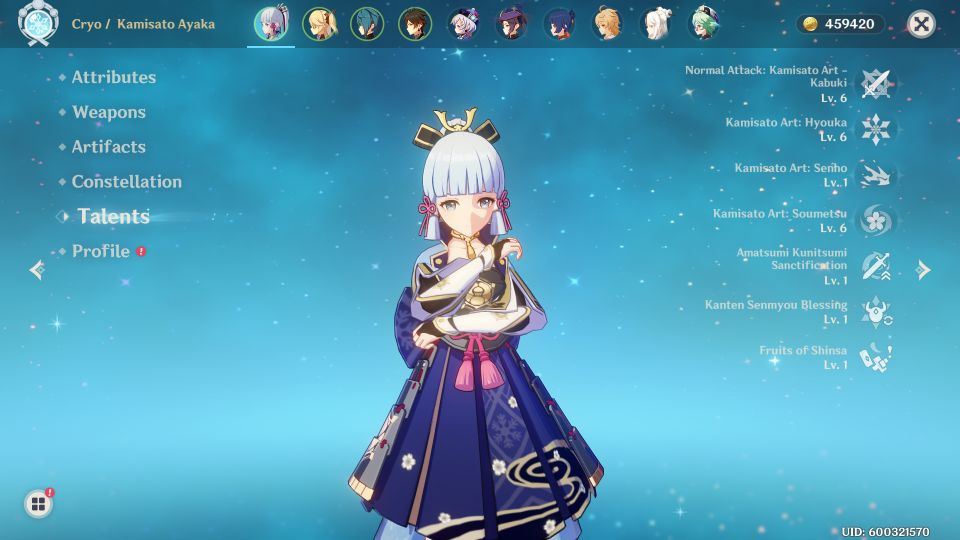 Active Talents
1. Kamisato Art – Kabuki
Normal Attack – performs up to 5 rapid strikes.
Charged Attack – consumes a certain amount of stamina to unleash a flurry sword of ki.
Plunging Attack – plunges from mid-air to strike the ground below, damaging enemies along the path and dealing AoE DMG upon impact.
2. Kamisato Art: Hyouka
Summons blooming ice to launch nearby opponents, dealing AoE DMG.
3. Kamisato Art: Senho
Ayaka consumes stamina and cloaks herself in a frozen fog that moves with her. In Senho form, she moves swiftly upon water. When she reappears, she unleashes frigid energy to apply Cryo on nearby opponents and infuses her attacks with Cryo for a brief period.
4. Kamisato Art: Soumetsu
Summons forth a snowstorm with flawless poise, unleashing a Frostflake Seki no To that moves forward continuously. Hits 20 times max.
Passive Talents
1. Fruits of Shinsa
When Ayaka crafts weapon ascension materials, she has a 10% chance to receive double the product.
2. Amatsumi Kunitsumi Sanctification
After using Kamisato Art: Hyouka, her normal and charged attacks deal 30% increased DMG for 6s.
3. Kanten Senmyou Blessing
When the Cryo application at the end of Kamisato Art: Senho hits an opponent, she gains the following:
Gains 18% Cryo DMG Bonus for 10s.
Ayaka's Constellations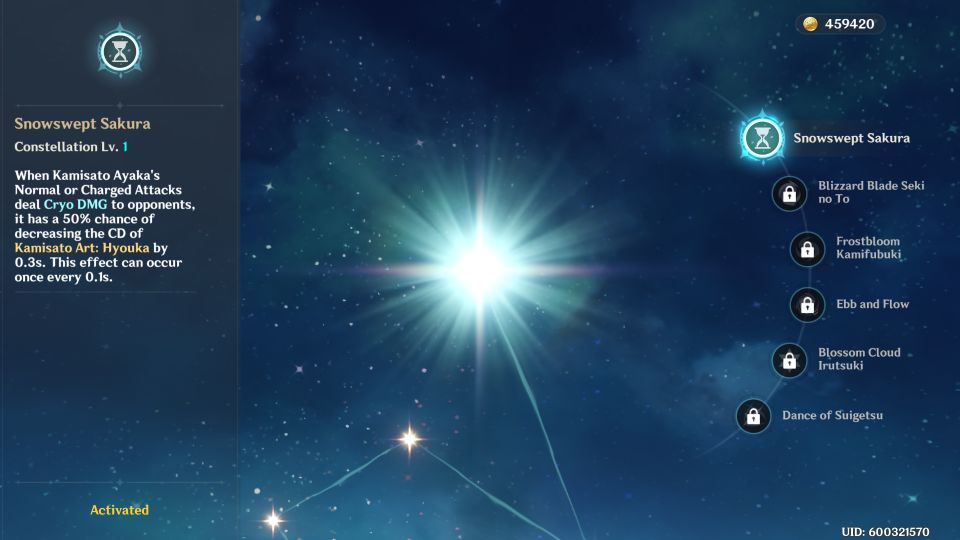 | | |
| --- | --- |
| Snowswept Sakura | When normal or charged attacks deal Cryo damage, there's a 50% chance of reducing Hyouka's cooldown by 0.3 seconds. |
| Blizzard Blade Seki no To | Soumetsu generates two additional frostflakes that each deal 20% of the original's total damage. |
| Frostbloom Kamifubuki | Increases Soumetsu's level by three. |
| Ebb and Flow | Enemies damaged by Soumetsu's frostflakes have defense reduced by 30% for six seconds. |
| Blossom Cloud Irutsuiki | Increases Hyouka's level by three. |
| Dance of Suigetsu | Every 10 seconds, Ayaka gains a buff that increases charged attack damage by 298%. This resets 0.5 seconds after a charged attack connects with a foe. |
Is Ayaka good enough at C0?
Ayaka at C0 is more than enough to deal good damage as a DPS character. Furthermore, her constellations in general do not make her broken.
Although she's a pretty strong Cryo DPS, do note that Ganyu is still regarded by most players to be the top DPS. If you do not have a good DPS at the moment, you may want to consider pulling for Ayaka.
To be fair, getting her at C0 is enough if you're not a whale. C1 does not seem that worth it and C2 adds a little to your burst damage with the two additional frostflakes. The best constellation might be C4 as it reduces enemy's defense by 30% for 6s. That said, only whales will go for C4 and above.
---
Related posts:
Genshin Impact: Sinister Instruction Quest Walkthrough