Happy Together is a side job / mission in Cyberpunk 2077.
Your objective is to help the cops talk to Barry who seems depressed.
Here's a walkthrough of Happy Together in Cyberpunk 2077.
Danger: Moderate.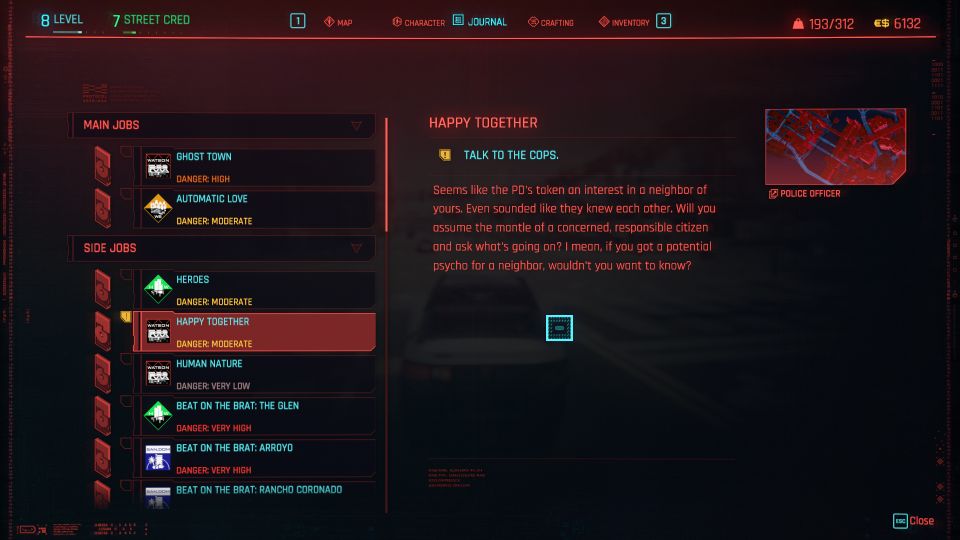 Talk to the cops
To begin the job, talk to the cops. They are at your apartment building.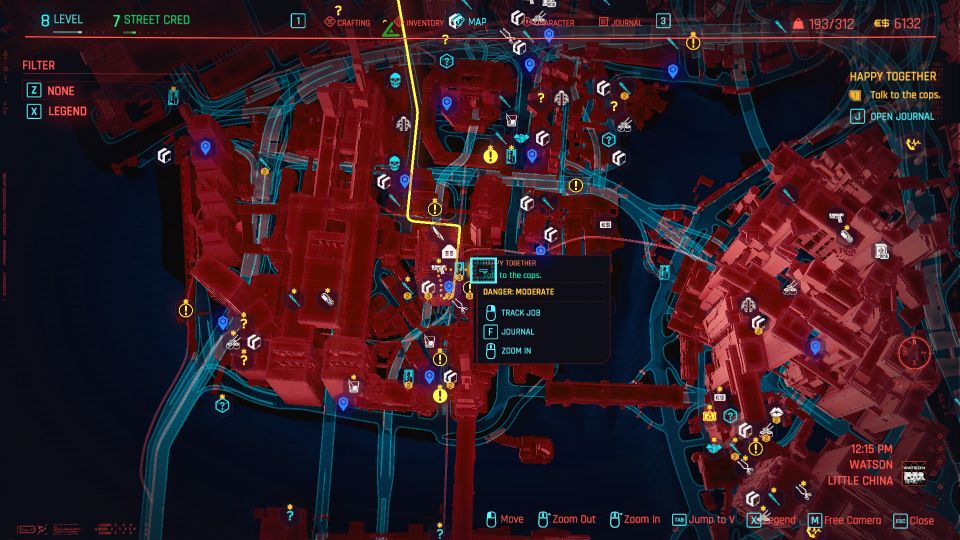 Volunteer your help to talk to Barry.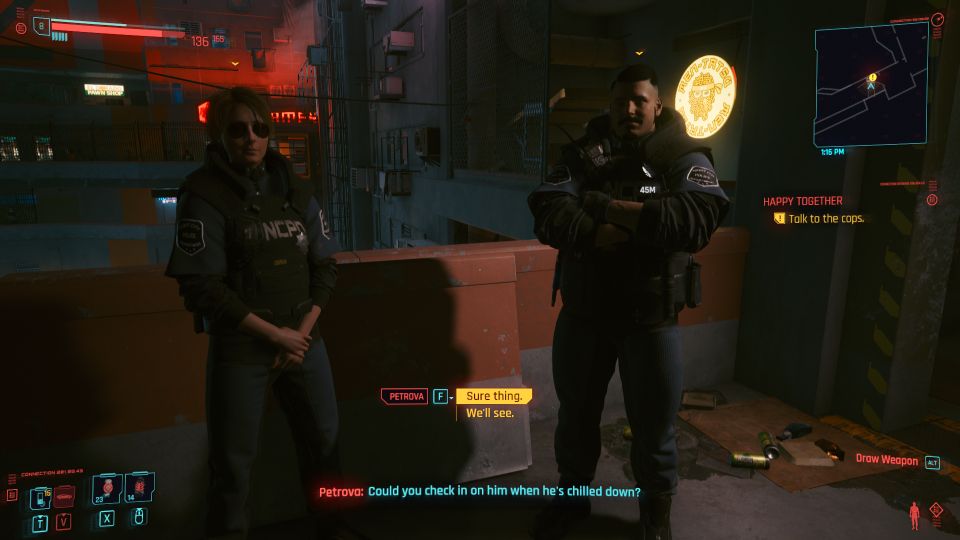 Talk to Barry
Barry's door is just in front of the cops. Knock on the door. He won't reply yet.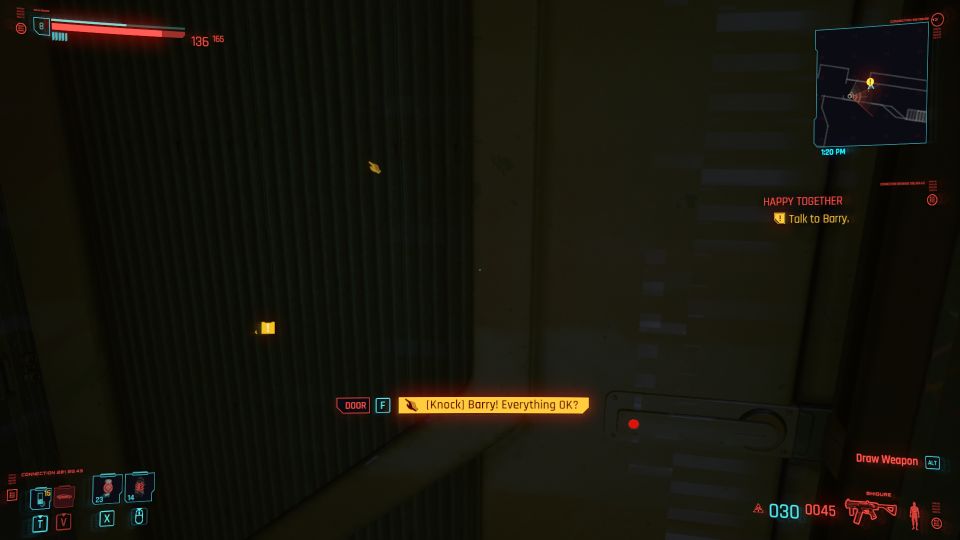 Talk to Barry after a few hours
You'll need to wait a few hours. You can either fast forward time or just go around doing other missions.
Come back and talk to Barry again.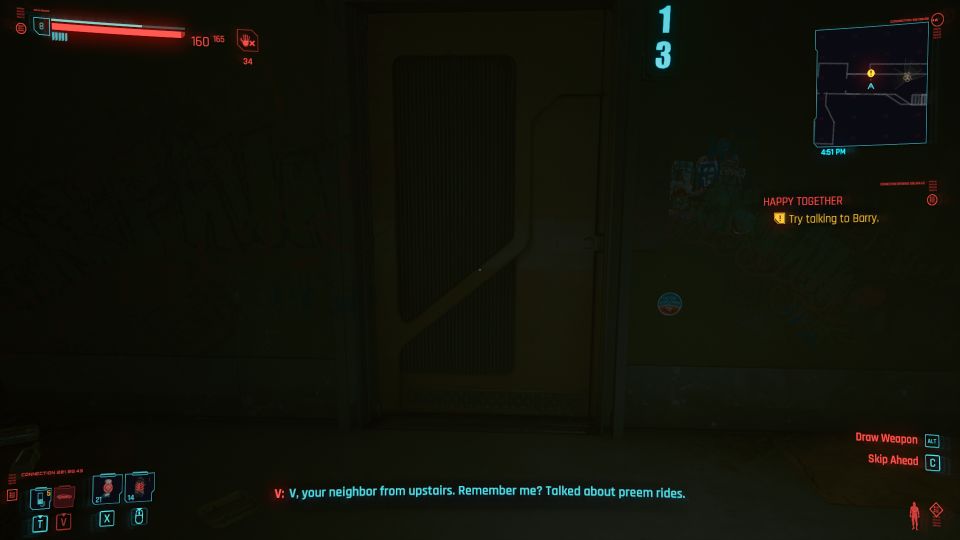 I chose the option "people like us have to get used to loss".
He then lets me in.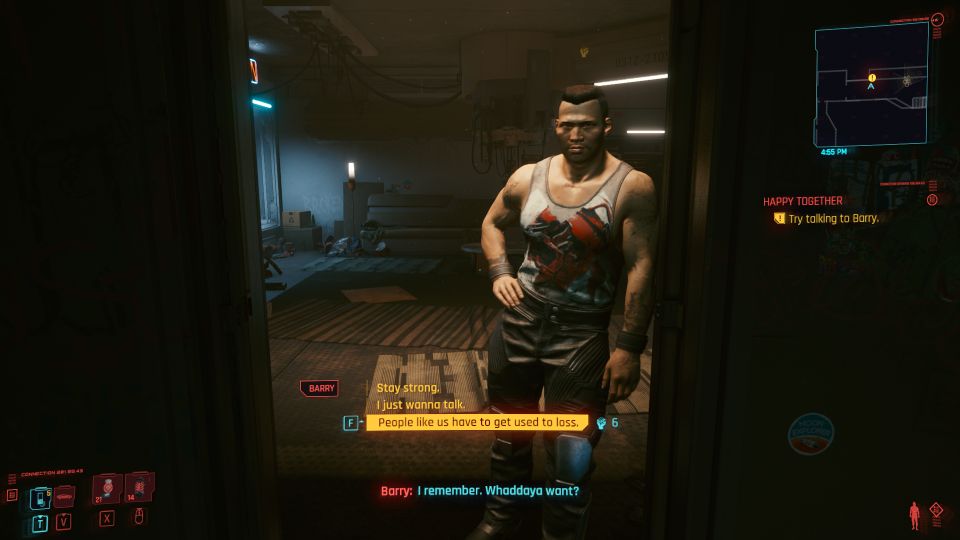 Sit down with him to continue the conversation.
I chose "everyone's got their limits".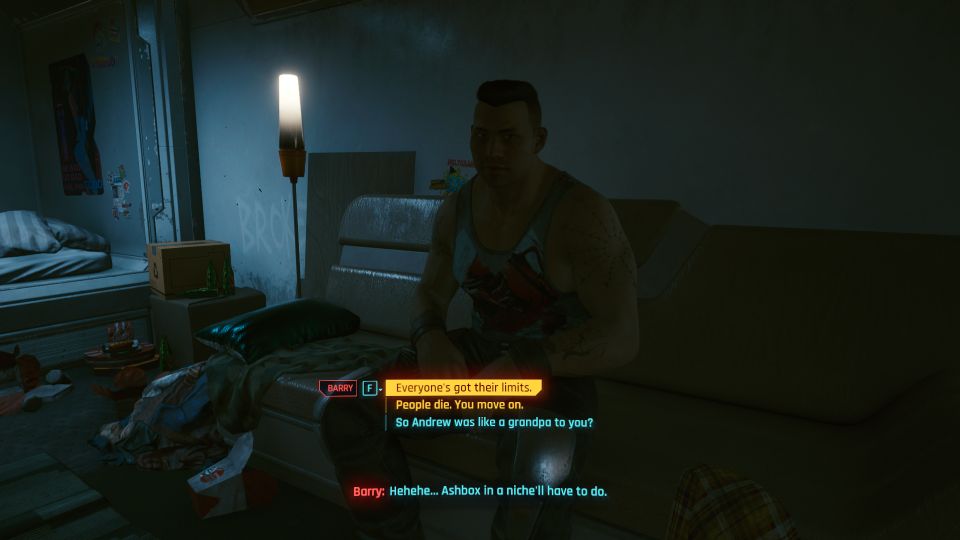 Find Andrew's niche (optional)
There is now an optional objective, i.e. to find Andrew's niche. You need to find out who Andrew is. I chose to perform the optional objective.
Head to the columbarium at Westbrook, North Oak.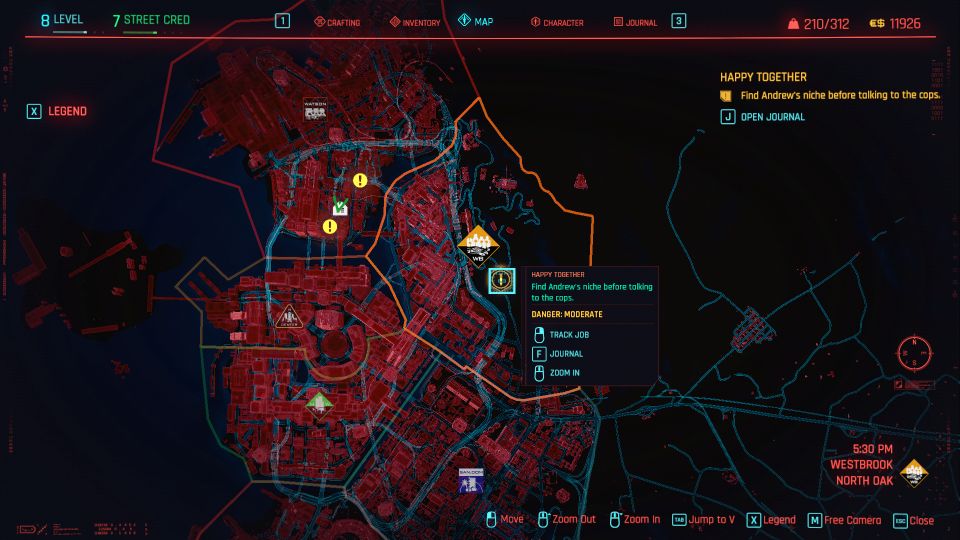 Enter the columbarium.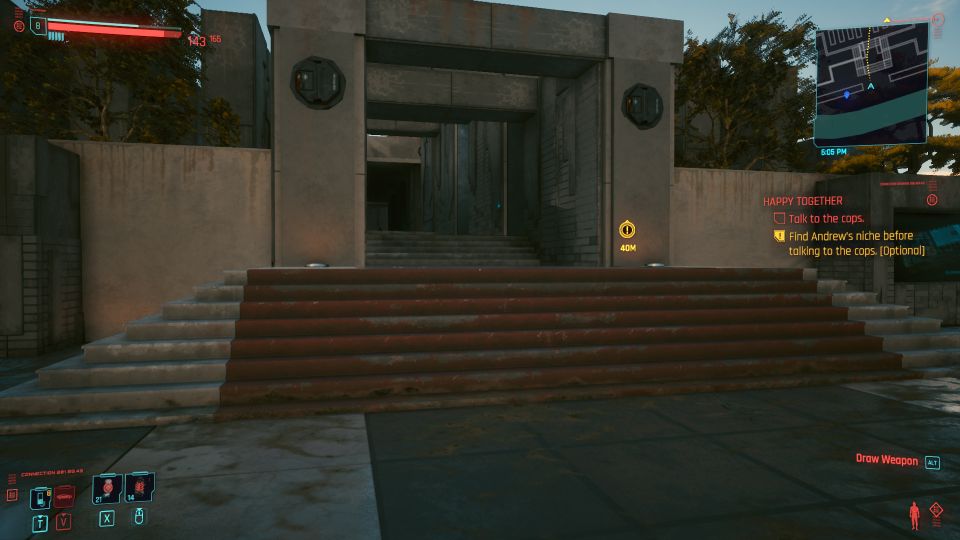 Inside, look for Andrew's grave. You will see a screen here showing that Andrew is actually a tortoise.
Talk to Johnny Silverhand.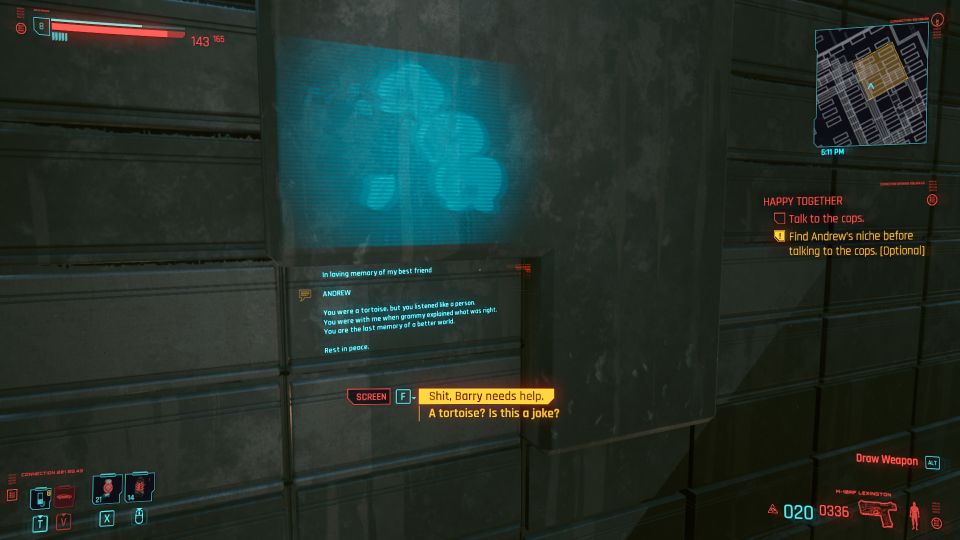 Talk to the cops
Head back to the cops who are at the apartment.
I chose the first option "I visited Andrew's grave". After Petrova and Mendez knows about it, they will become more empathetic.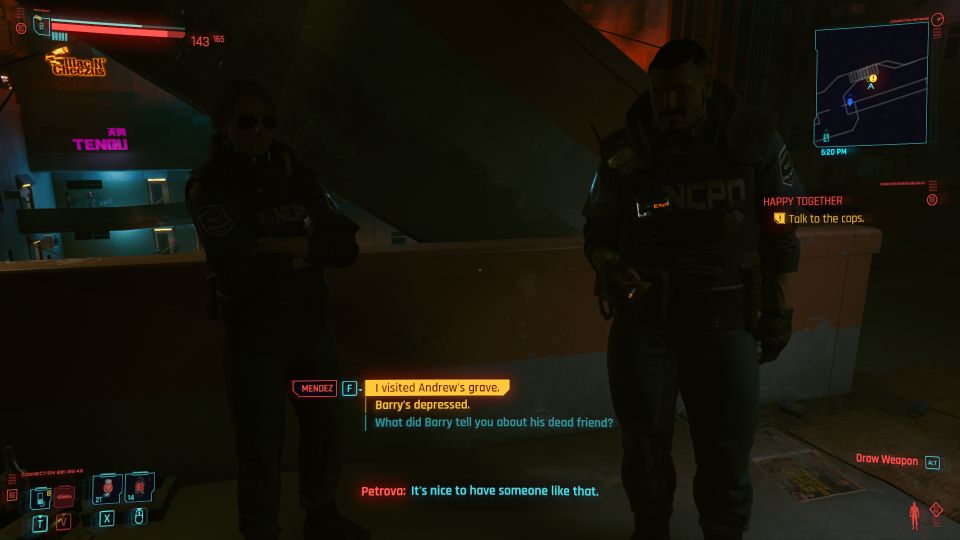 Check on Barry
Mendez will knock on Barry's door and console the latter.
Just wait outside and Barry will let them in. The mission ends here.
I'm not sure if the ending is different if you had chosen not to go to the columbarium.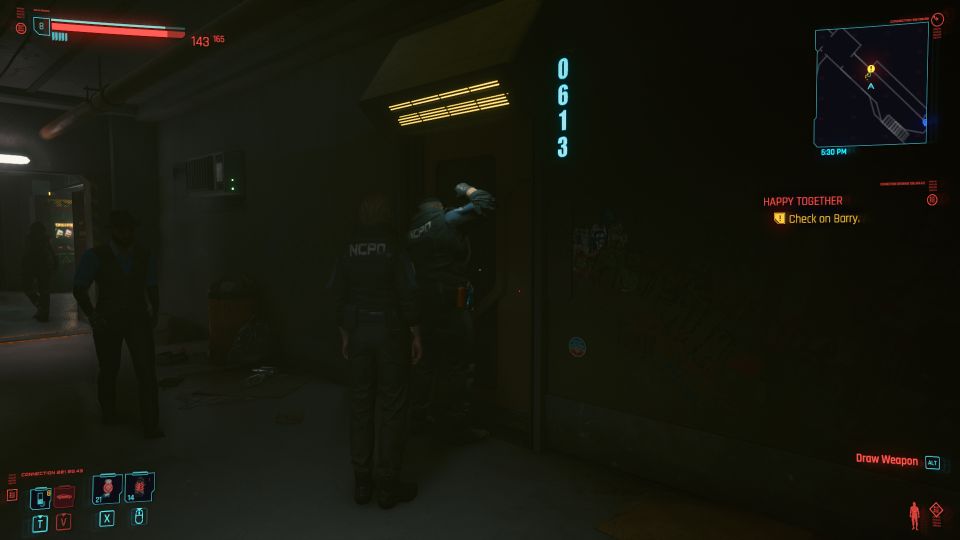 ---
Related posts:
Cyberpunk 2077: Where The Bodies Hit The Floor Walkthrough
Cyberpunk 2077: Human Nature Mission Walkthrough
Cyberpunk 2077: Tune Up Mission Walkthrough